Hey all you travel fans!  Iceland is back open for travelers and Europe's second-largest island is dropping all of its COVID-19 travel restrictions starting Friday, February 25, 2022.  On February 25, Iceland will lift all of its coronavirus travel restrictions, meaning visitors no longer have to show proof of a negative COVID-19 test (nor do they need to be vaccinated) to enter the country.
Similarly, all domestic measures will be done away with, ranging from restrictions on social gatherings to mandatory quarantine for those who test positive for COVID-19.
Iceland joins a growing number of Asian and European countries that have recently lifted or eased restrictions both domestically and at the border. Some of those countries have included Norway, which dropped its quarantine requirement for international arrivals on January 26 (removing the last of any and all entry requirements), and Israel, which will allow unvaccinated travelers to visit starting March 1 (subject to pre- and post-arrival PCR tests).
This news comes days after Icelandair, a major airline that operates near the capital city of Reykjavík, announced its spring fare sale. Until March 8, the air carrier is offering round-trip fares for as low as $379 on flights from 12 U.S.cities (and three Canadian ones) to 20 destinations spanning Europe. With all Icelandair flights, it's possible to add a free stopover in Iceland (which can range from one to seven nights) to any itinerary.
$448 RT from Chicago on United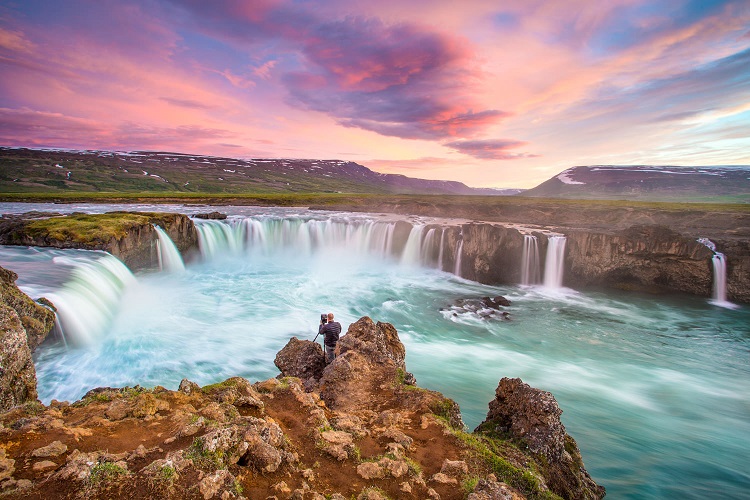 Open Travel
The change means travelers will no longer have to present a negative COVID-19 test prior to travel, nor have to quarantine upon arrival. Unvaccinated travelers are also allowed to enter the country. The changes not only affect travelers; they also affect residents. All rules surrounding social gatherings and schools are also lifted.
Iceland's Health Ministry says the relaxed rules come as the country is seeing a transition from a COVID pandemic to epidemic, citing an 80% vaccination rate among Iceland residents. Although the COVID-19 restrictions are going away, health officials are still asking visitors to be aware of their symptoms and take precautions, as necessary, to prevent further spread. Officials are also prepared to reverse the measures should a new outbreak occur in the future.
Separate from any COVID protocols, some travelers are still required to obtain the proper visa before entering Iceland. United States citizens are exempt from this requirement, but residents of these countries are not.>Iceland is a popular destination to see the famed Northern Lights. Here are our top spots to catch them, plus some facts you may not know about Iceland, and how to eat and drink like a local while visiting the land of fire and ice.
Iceland will lift all remaining COVID-19 restrictions on Friday, including a 200-person indoor gathering limit and restricted opening hours for bars, the Ministry of Health said on Wednesday.   "Widespread societal resistance to COVID-19 is the main route out of the epidemic," the ministry said in a statement, citing infectious disease authorities.    "To achieve this, as many people as possible need to be infected with the virus as the vaccines are not enough, even though they provide good protection against serious illness," it added.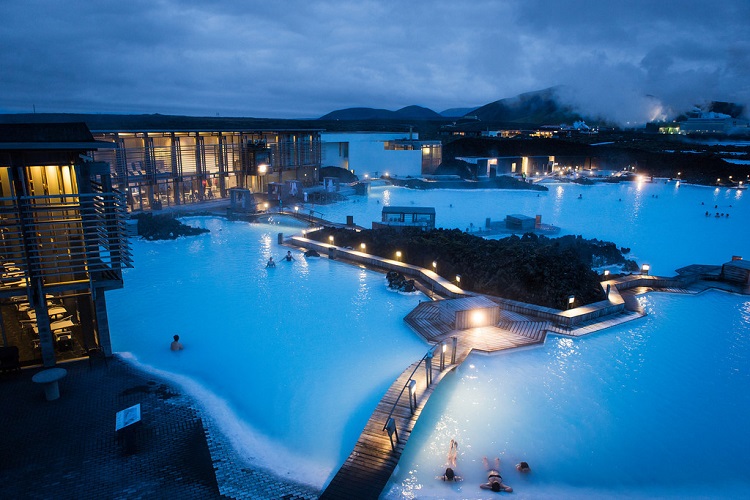 BLUE LAGOON
The gloriously enchanting Blue Lagoon is on most traveller's lists of must-sees in Iceland. It's recently been enlarged to accommodate the ever increasing number of guests, a succesful and very natural addition to this milky, aquamarine coloured lake.     Although there are plenty of natural hot springs in Iceland, the Blue Lagoon is actually a result of the nearby geothermal plant and was formed in 1976. In the eighties and early nineties people bathed in its unique waters, milky with silica mud, and those with skin conditions and exzema noticed great improvement to their skin.   In those times, the changing rooms were a mere shack by the edge of the water but now, The Blue Lagoon is without a doubt the most sophisticated spa experience you will find in Iceland, or for that matter, on an international scale.
If you have time, you really should complete your Blue Lagoon experience by eating at the fabulous Lava restaurant which has a great team of chefs that have experience from Michelin star restaurants in New York, London and Paris. And all this with that unique new Icelandic twist – lots of lamb, fish, shellfish and seasonal Icelandic ingredients. Believe us, you'll be ravenous after your swim in the lagoon and a wonderful four-course culinary adventure will put the final touch to your day before heading back.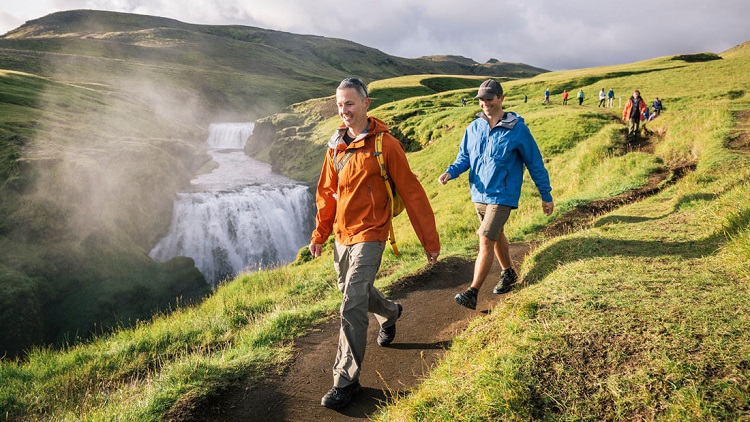 All border restrictions would also be lifted, it said.
Iceland, with a population of some 368,000 people, has registered between 2,100 and 2,800 daily infections recently. More than 115,000 infections have been logged throughout the epidemic and 60 have died due to COVID-19.
IN the summertime, at the gates of the polar circle, from mid-June to mid-July, the midnight sun, that never really sets, illuminates the bright nights of summer. In Iceland, from the summer solstice (June 21st) onwards, dusk falls at around midnight, and the peculiar clear night only lasts until 3:00 in the morning.Travel to Iceland to experience the stunning Icelandic nature, the beauty of the rugged landscape and the creativity of the Icelandic people. Come to Iceland to enjoy your vacation, or find the perfect setting for your conference or your incentive trip. Let Iceland be your inspiration.     Iceland, a Nordic island nation, is defined by its dramatic landscape with volcanoes, geysers, hot springs and lava fields. Massive glaciers are protected in Vatnajökull and Snæfellsjökull national parks. Most of the population lives in the capital, Reykjavik, which runs on geothermal power and is home to the National and Saga museums, tracing Iceland's Viking history.