If you are planning on traveling overseas, chances are you won't want to lose touch with the rest of the world during your stay. Because we're all so fond of using our smartphones, laptops, and electrical appliances everywhere we go, clever travelers will be able to charge up on the go.
Taking the right travel adapter or converter with you will ensure you're never without — but with so many variations, it can be tricky to know what you need.
  =========   OUR PICK   ===========
Epicka Universal Travel Adapter
$16 $21 Save $5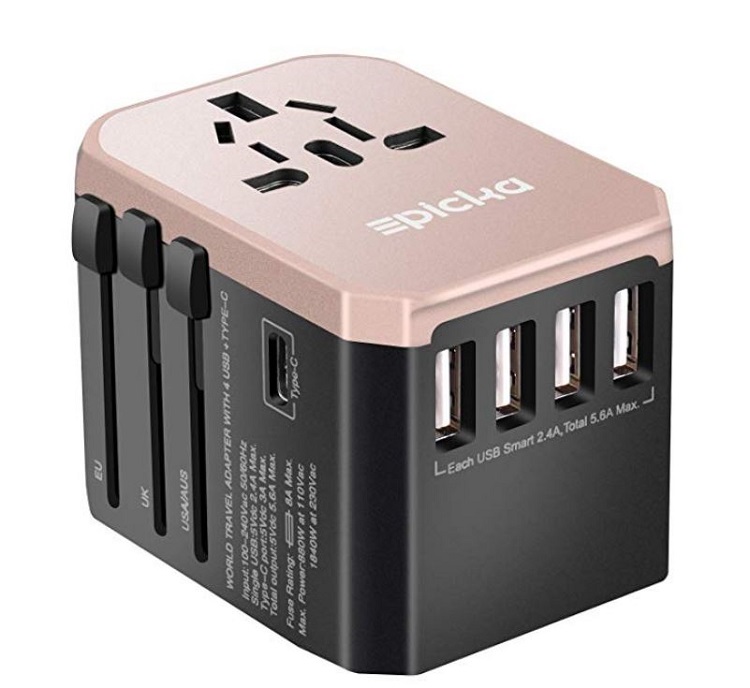 We found the Epicka Universal Travel Adapter to be the best of the options. It fits four types of outlets, and it has more USB ports than any of its competitors, so it can can charge more devices at higher speeds. It combines the best of the features we were looking for. It contains the three most common international plugs and a US-style plug, which should cover you in the majority of countries around the world. It has the most USB ports—four of the standard USB-A and one USB-C—of any universal adapter we reviewed and researched, and it could charge more of our devices faster. A replaceable fuse and an included spare should take the brunt of any accidental, unfortunate, or shockingly bad connections. The Epicka is fairly compact and well built, and it even comes with an extra USB cable and a nylon case.

Available again for $16 in the rose gold color, this matches the previous low we've seen for the Epicka Universal Travel Adapter, our top travel adapter pick. Normally going for around $21, the Epicka is the best all around choice and works in most counties. So if you're planning to travel abroad for the holidays, this is a nice chance to save. Buy HERE from Amazon
 =================================================================
Do I Need a Travel Adapter or Converter?
The global village is huge, and while we're all one world — we don't all use the same electrical outlets. Different countries use different types of electrical outlets and power points, meaning that what works for you at home won't necessarily work while you are away.
Different countries also have a wide range of electrical voltage running through their wires. In the U.S., for example, electricity runs on 110-120 volts, whereas many other countries have ramped that up to between 220-240 volts.
This matters, because you could fry your appliances if you expose them to a higher voltage than they were designed to use.
But do you need a travel adapter or a converter? Perhaps you need to buy both?
First, you should find the voltage of your device by checking the detailed information, written on either the device itself or the power cord AC box.
As a basic guide, electrical devices have 3 different types of voltage: single, dual, or multi.
Single voltage reads 1 number: A device like this handles one type of voltage, like 120V
Dual voltage reads 2 numbers like 110V/220V: This means the device contains a switch to toggle between the 2 voltages
Multi-voltage reads 100-240V: This is most common on battery chargers and AC transformers for laptops, tablets, other portable devices.
Once you know your voltage, here are the key points to decide what adapter/converter to buy:
If you are traveling to a country where the voltage output is compatible with your device, you won't need to worry about buying a converter.
You will probably still need an adapter to plug into the wall socket — so read on to find out more about travel adapters.
Travel Adapters For Different Countries
There are at least 15 different recognized types of outlet plugs in the world, all offering different prong shapes and voltage. While this does not mean that you need to throw 15 different adapters in your bag before you leave home, it does mean you need to do your research before you leave home.
Most of the countries you'll be traveling to fall into one of 4 outlet types for U.S., U.K., Australia, and Europe. You can easily pick up adapters and converters that are made to suit the requirements of your destination, and you can even purchase packs that feature a combination of options to suit a variety of different destinations.