Have you ever dreamed of flying off for a vacation in beautiful Barcelona Spain? Now you can, as price wars have driven the price down to $299 RT — isn't that crazy? Barcelona seems to find its way onto most people's itineraries… and for good reason. It has a vibrant food scene, a plethora of unique historic architecture, great Mediterranean weather, beautiful beaches, and arguably the best nightlife in Europe. This deal is available from August to December. Here are some sample dates:
DATES:
Limited availability in October 2019
Example dates:
11th-20th Chicago to Barcelona (Friday to following Sunday) – – Just $420
13th-22nd Oct Chicago to Barcelona for $299 on Iberia
13th-23rd Oct
13th-24th Oct
14th-23rd Oct
14th-24th Oct
14th-25th Oct
15th-23rd Oct
15th-24th Oct
15th-25th Oct
16th-23rd Oct
16th-24th Oct
16th-25th Oct CHicagot o Barceloan – Just $299 RT on Iberia 
HOW LONG TO VISIT BARCELONA
Barcelona is one of those cities where you can easily spend more than a week exploring, but it's recommended to spend at least 4 or 5 days in the city. If you plan on partaking in the city's famous nightlife, you may want to add a few days to your visit so have adequate time to recover.
WHEN TO VISIT BARCELONA
The most popular time to visit Barcelona is in the summer, but this means tons of people and sweltering 85+ degree weather. (Then again, this is great beach weather.) Winters are mild and the temperatures average in the mid-50s — it's also when you'll find the lowest number of visitors. Late spring and early fall bring great weather and fewer crowds than the summer, so those are the best times to visit.
NEIGHBORHOODS TO VISIT IN BARCELONA
The most visited, and oldest, neighborhood of Barcelona is called the Gothic Quarter (Barri Gòtic) and it contains many of the top attractions, including the Cathedral of Barcelona and a handful of Roman ruins. Yes, it will be overrun with other tourists, but getting lost in its winding medieval streets and alleys is still one of the great joys of visiting Barcelona.
The second neighborhood (which is technically part of the Gothic Quarter but has its own personality) is Las Ramblas— which is a pedestrian-only street (and surrounding area) lined with shops, chain stores, tacky tourist stalls, cafes, and restaurants. This is the most visited tourist spot in Barcelona, so it's buzzing all day and night. It's also one of the biggest pickpocket hotspots in Europe, so be extra vigilant. The cafes and restaurants are super overpriced, so wander off Las Ramblas for better prices. Additionally, La Boqueria Market is a massive indoor market located off Las Ramblas, and it's been rated the best market in the world. It's a massive tourist draw, so it's super busy, but it's still a nice experience. If you want to escape the tourist hoards, head to Plaça Reial — which is a beautiful square that's just off Las Ramblas.
El Born is the most trendy and artistic neighborhood in Barcelona. In addition to its tapas bars, restaurants, avant-garde galleries, cool cafes, and vintage shops, this neighborhood is the home of the impressive Church of Santa Maria del Mar and the excellent Santa Caterina Market (which has an amazing Gaudí-esque roof). It's also where you'll find a lot of Barcelona's famous nightlife, so you'll find yourself here often.
L'Eixample is the largest neighborhood in Barcelona, and it's home to many of the city's most famous architectural highlights — including La Sagrada Familia. Eixample is popular with the locals because it's a lively neighborhood without being as densely populated as the city center. Because of its size, you'll also find that different parts of the neighborhood have their own personalities.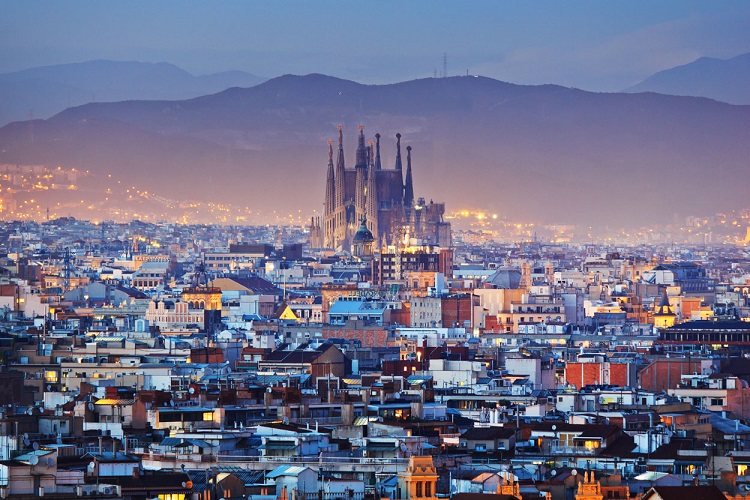 La Sagrada Familia
El Raval is one of the largest and the most ethnically diverse neighborhood in Barcelona. It's more gritty than other parts of the city, so don't be surprised if you see prostitutes in some parts, but the neighborhood is currently in the midst of rapid gentrification. It's popular with young, hip folks, and there are new and interesting businesses, boutiques, thrift stores, bars, and restaurants opening all the time — it certainly always has something going on.
Gràcia is a neighborhood that's often described as a village within a city, so it's a great place to visit to live like a local. This bohemian neighborhood is located on a hillside, so it offers great views of the city. You'll find plenty of trendy shops, bars, outdoor cafes, and restaurants filled with equally trendy locals. It's also home to Gaudí's famous and whimsical hilltop park, Parc Güell.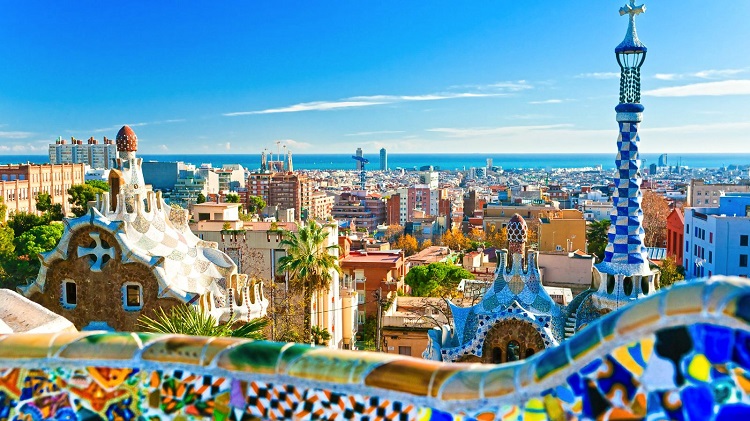 Parc Guell, Barcelona
Barcelona offers so many wonderful things to visitors, but it also has a few negative aspects that you should know before visiting.
THE GOOD
The Nightlife. This is one of the main reasons people flock to Barcelona. The night doesn't get started until about 10pm, and you'll find people eating in restaurants until well after midnight. Then they hit the bars until the early morning and then the clubs until 6am. Clubbing not your thing? Don't worry, Barcelona has options for just about anyone.
The Beauty of the City. Barcelona is undoubtedly a beautiful city, and it boats some of the most impressive architecture in all of Europe. Simply walking/getting lost in its charming medieval streets is a pleasure that you'll love.
The Beaches. Barcelona is constantly rated as the best beach city in the world, so it's no surprise that the beach plays a huge role in the city's identity.
A Living City. It's easy to see why people love living in Barcelona and that joy is in the air. There is always something going on, and you'll constantly see people outside in the streets, parks, and cafes enjoying life. Watch out, it's contagious.
Culture and Museums. Barcelona has something for everyone, including a number of excellent museums.
Great Weather and Excellent Outdoor Life. Barcelona has mild winters and warm summers. In the winter, you can expect temperatures to be in the mid-50s; in the summer, temps stay around the low-80s. This means that Barcelona's citizens spend a lot of time outdoors in the city's many parks, squares, beaches, and outdoor cafes.
THE NOT-SO-GOOD
Loads of Tourists. Barcelona is one of the most visited cities in Europe, so the city becomes overrun with visitors and long lines to the famous sights — especially in the summer months. That said, it's no reason to avoid the city… but the weather is nice all year, so you can have a nice visit at any time.
OTHER AVAILABLE DATES