Check out this great fare from Chicago to Egypt for just $555 roundtrip. This might price this as Delta marketed flight, however, all flights are operated by Air France or KLM Royal Dutch. You should just buy direct from Air France. Cairo is one of the world's great megacities. As beautiful as it is crazy, and as rich in historic finery as it is half dilapidated, Cairo tends to be a city that travelers love and hate in equal measures. Its sheer noise, pollution, and confounding traffic are an assault on your senses, but look beyond the modern hubbub, and you'll find a history that spans centuries. Full of vigor, Cairo is where you really get a feel for Egyptian street life. No trip to Egypt is complete without a stay in the city Arabs call Umm al-Dunya (The Mother of the World).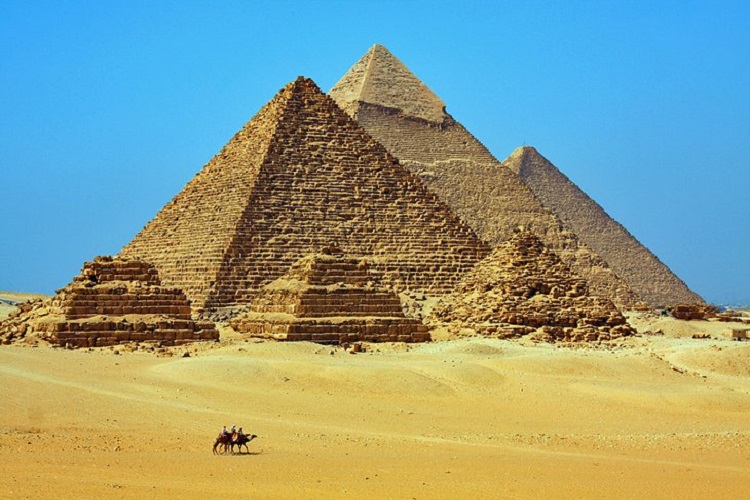 The Pyramids of Giza are Cairo's number one half-day trip and a must-do attraction on everyone's itinerary. Right on the edge of the city, these fourth dynasty funerary temples have been wowing travelers for centuries and continue to be one of the country's major highlights. Despite the heat, the dust, and the tourist hustle, you can't miss a trip here.
The Pyramid of Cheops (also called the Great Pyramid or Pyramid of Khufu) is the largest pyramid of the Giza group, and its interior of narrow passages can be explored, although there isn't much to see, except a plain tomb chamber with an empty sarcophagus. Directly behind the Great Pyramid is the Solar Boat Museum, which displays one of the ceremonial solar barques unearthed in the area that has been painstakingly restored to its original glory. Further south on the plateau is the Pyramid of Chephren (also known as the Pyramid of Khefre), which has an internal tunnel area that can be entered, and the smaller Pyramid of Mycerinus (Pyramid of Menkaure). Guarding these mortuary temples is the lion-bodied and pharaoh-faced Sphinx; one of the ancient world's iconic monuments.
The pyramid plateau is on the edge of Giza's suburban sprawl, roughly 13 kilometers southwest of the central city.
Address: Al-Ahram Street, Giza

Fare Availability:
Valid for travel from November – early December or January 2019 – April 2019. Must purchase at least 3 days in advance of departure
Sample dates:
11th-19th Nov
12th-19th Nov
24th Nov – 1st Dec
25th Nov – 3rd Dec
26th Nov – 3rd Dec
26th Nov – 4th Dec
2nd-9th Dec
2nd-10th Dec
3rd-11th Dec
4th-11th Dec
6th-13th Dec
9th-17th Dec
10th-17th Dec
10th-18th Dec
11th-18th Dec
17th-24th Jan
19th-26th Jan
22nd-29th Jan
24th-31st Jan
29th Jan – 5th Feb
2nd-9th Feb
7th-14th Feb
3rd-11th Apr