Ready to test your luck in Las Vegas this fall? Well now you can on cheap flights from Chicago to Las  Vegas for only $171 RT on American. Right now, there are some great cheap flights to Las Vegas.  Valid for travel in October and November 2018. Availability is limited. Must purchase at least 21 days in advance of departure.     Las Vegas, in Nevada's Mojave Desert, is a resort city famed for its vibrant nightlife, centered around 24-hour casinos and other entertainment options. Its main street and focal point is the Strip, just over 4 miles long. This boulevard is home to themed hotels with elaborate displays such as fountains synchronized to music as well as replicas of an Egyptian pyramid, the Venetian Grand Canal, and the Eiffel Tower.
DATES:
Limited availability in October and November 2018
Departure date
Sept 25
Oct 9, 28
Nov 3, 4, 10
Example dates for Chicago – Las Vegas:
9th – 13th Oct
10th-13th Oct
10th-16th Oct
10th-18th Oct
17th-23rd Oct
31st Oct – 6th Nov
31st Oct – 8th Nov
31st Oct – 9th Nov
3rd-6th Nov
3rd-8th Nov
3rd-9th Nov
3rd-13th Nov
7th-13th Nov
10th-13th Nov
DEPARTURE DATE AND PRICES – CLICK LINK HERE TO SAVE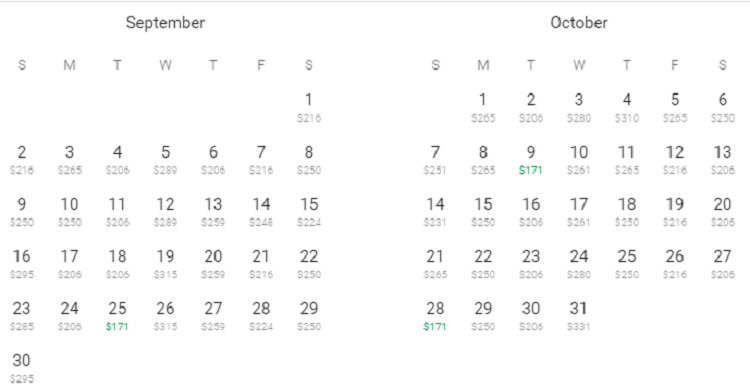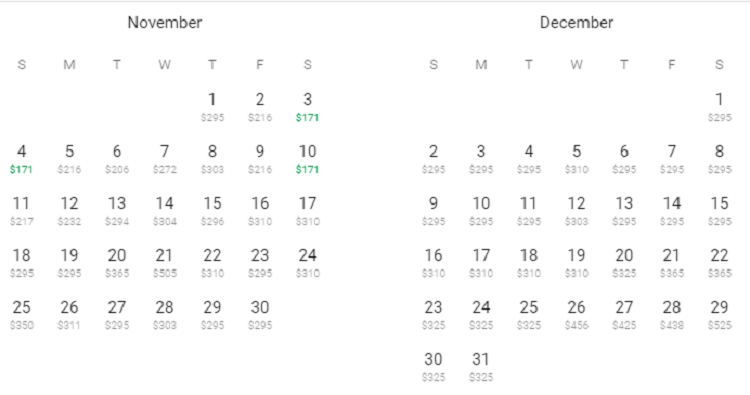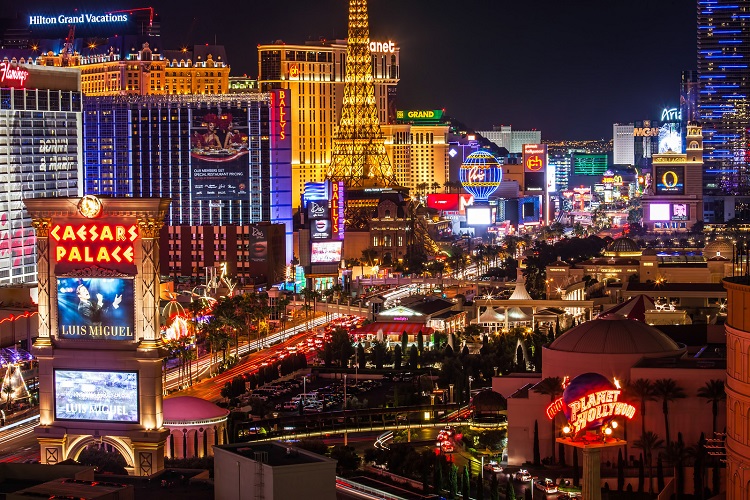 The largest city in Nevada, Las Vegas lies in the desert, surrounded by baron hills. The huge resort hotels lining the famous "Strip," with their sparkling lights, fountains, and and recreated glamorous sites from cities around the world, offer a fun and exciting retreat from the desert landscape. Las Vegas is a great place to visit year-round; its cooler winter temperatures are pleasant for sightseeing, and in summer, when the temperature can rise above 104 degrees Fahrenheit, the hotel pools become an important part of the daytime activities.The 2.5-mile-long central section of Las Vegas Boulevard, which runs through the city from northeast to southwest, known as The Strip, is lined with huge entertainment palaces, many built with a defining theme and home to performance venues, luxury hotel rooms, and fine dining. The Strip is particularly impressive at night, when the city is illuminated by an endless succession of glittering neon signs. Most visitors enjoy walking along the Strip and taking in the sights. Generally speaking, the Las Vegas Strip runs from the Mandalay Bay Hotel to the Treasure Island Hotel. Many of the hotel complexes have free street side entertainment, from dancing fountains to erupting volcanoes.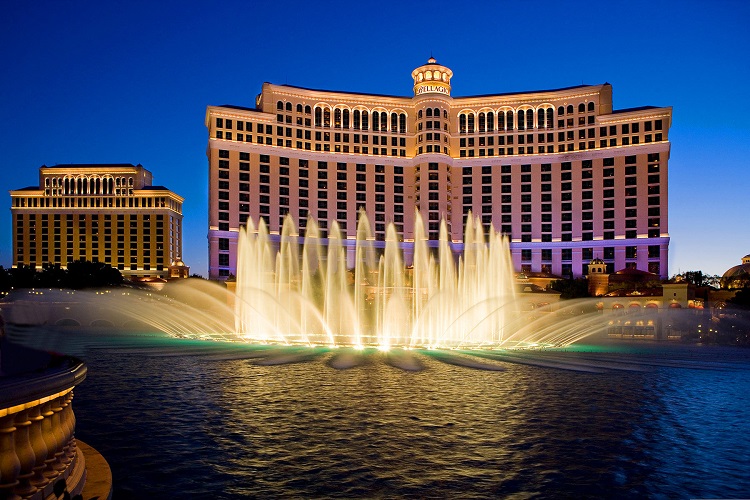 With one foot in the past and one in the future, the nearly 50-year-old Caesars Palace remains an icon of classic Sin City decadence. Caesars is one of the last old-school properties remaining, and few Las Vegas casinos can match it for atmosphere. But before you hit the table games, poker room or baccarat pit, mug up on the subject. The Gamblers General Store in Downtown Vegas has a library of "how to" gaming books, as well as gifts. If poker's your game, head to the Bellagio, where you might see some of the world's top players in action, or Downtown's legendary Golden Nugget where you can match your skills with anonymous, grizzled veterans who look like they haven't left their seat at the table in decades. If you'd rather stick to slots or video poker, head to the Palms, where the payouts are above average, or the off-Strip Gold Coast or Circus Circus, both of which offer great people-watching opportunities and glimpses of Vegas' vintage past.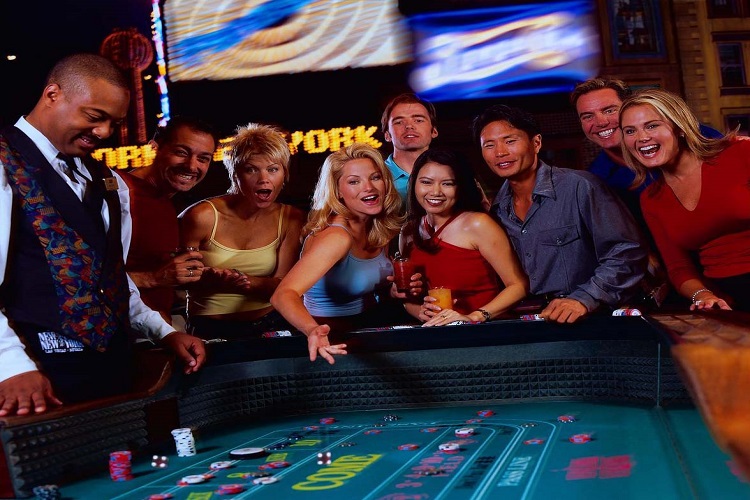 Many of the more preposterously themed hotels in Vegas pay homage to notable locales around the world that would seem tacky anywhere else than here. You want Paris and the Eiffel Tower? Try Paris Las Vegas. Venice? There are gondolas and a St. Mark's Square at the Venetian. Head to Bellagio for a replica of Italy's Lake Como. The Big Apple? New York New York has the Statue of Liberty, the Empire State Building, Central Park and much, much more. Such is the magic of Las Vegas.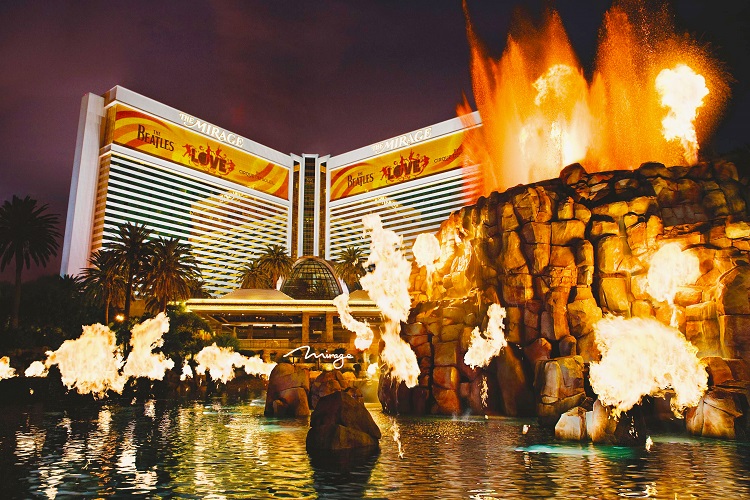 The most striking thing that sets the Strip's bars apart from most watering holes elsewhere is the sheer number of bottles. Cocktail connoisseurs should head to the Downtown Cocktail Room, where specialty drinks are rated on a level of 1 ("very approachable") to 5 ("advanced palate"). Wine drinkers should set their sights on Aureole, where the bottles are housed in a four-story wine tower that requires harnessed "wine angels" to retrieve them. Speaking of angels, if you like to imbibe while taking in a view from the heavens, visit the Level 107 Lounge on the 107th floor of the Stratosphere, with a fine smattering of signature cocktails, top-shelf liquors, and beer and wine. On the other end of the heaven-hell spectrum (and conveniently located just a few blocks down the Strip) is the Peppermill Fireside Lounge, with its cozy fire pit and world-famous 64oz libation, the Scorpion. One sting can fell a man for a week.
The one-of-a-kind, often terrifying Atomic Testing Museum pulls back the curtain on the Nevada Test Site and the state's history as nuclear-weapons guinea pig. Downtown, organized-crime buffs will flip for the Mob Museum, which details the mafia's involvement with Sin City's rise. If you want a visual tour through Vegas history, head to the Neon Museum on the north end of the Strip, where signs, lights and other Sin City architectural artifacts are preserved. Aficionados of old-school arcade games should visit the peculiarly beautiful Pinball Hall of Fame, where you can admire—and play—more than 150 operational pinball machines.