Check out this great fall flight deals to Frankfurt Germany from Chicago.   Right now, there are some really great cheap flights from Chicago to Frankfurt, Germany for only about $487 roundtrip — on selected flights from October ad December 2018 departures.   Availability is limited and cheapest flights have at least 7 day itinerary. A 7 day stay minimum is required. Must purchase at least 28 days in advance of departure.  You can even find New Year's flights below if you want to celebrate the new year in Germany….
Come enjoy the Christmas Markets in Frankfurt with these great cheap flights.  One of Germany's oldest Christmas markets stretches from Frankfurt's Hauptwache all the way to the Main riverbank. A giant Christmas tree decorates the market square with its historical half-timbered houses and the old town hall. Trinkets and handicrafts make great souvenirs and make sure to try the local specialities, such as the Bethmännchen Christmas cookies with marzipan and almonds and hot apple wine.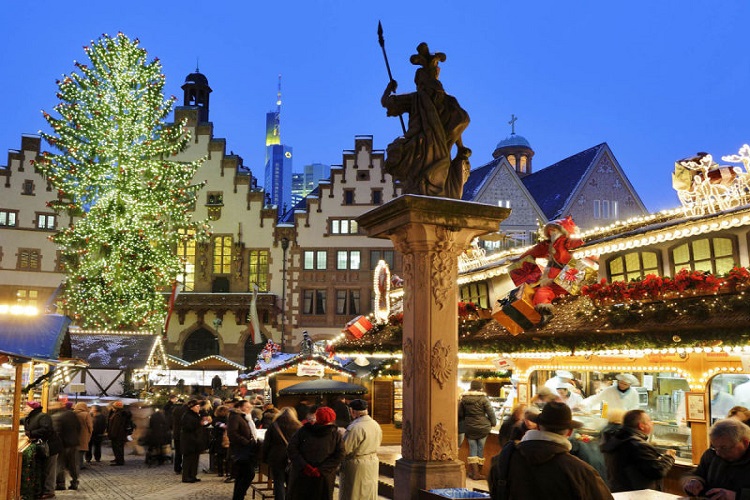 In terms of visitor numbers and size, the Frankfurt Christmas Market is one of the largest Christmas markets in all of Germany. The elaborate and creative stand decorations, the scenic surroundings on the Römerberg and St Paul's Square and the huge Christmas tree combine to also make it one of Germany's most beautiful.
Venue: Liebfrauenberg und Liebfrauenstrasse, Paulsplatz, Römerberg, Fahrtor, Mainkai
More information:
http://www.frankfurt-tourismus.de/weihnachtsmarkt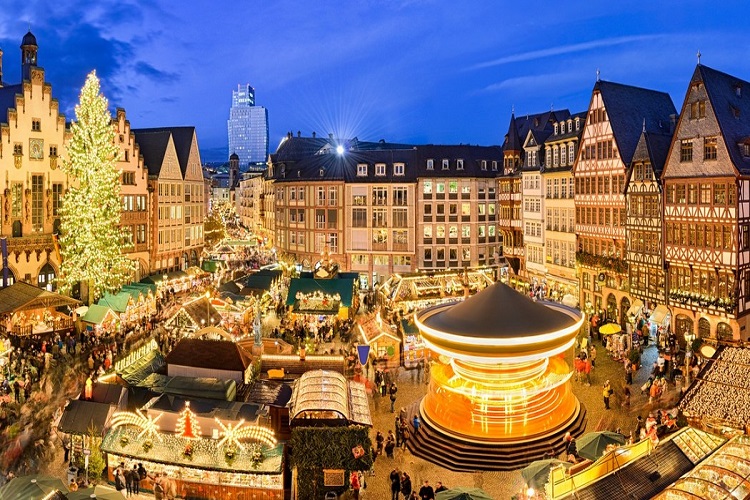 HERE ARE THE DATES FOR CHEAP FLIGHTS – BUT CLICK HERE TO GET BETTER PRICING THAN BELOW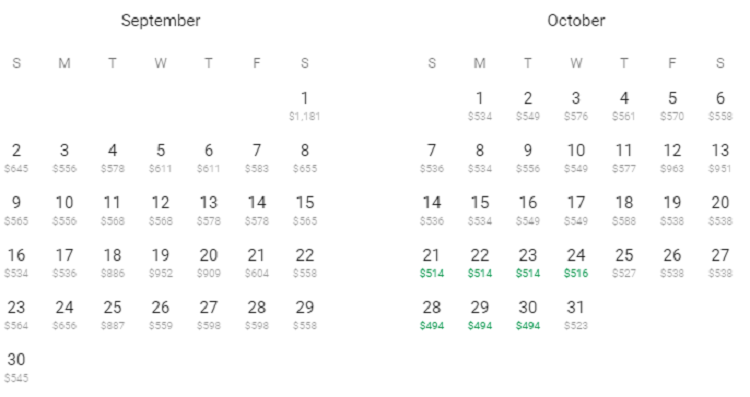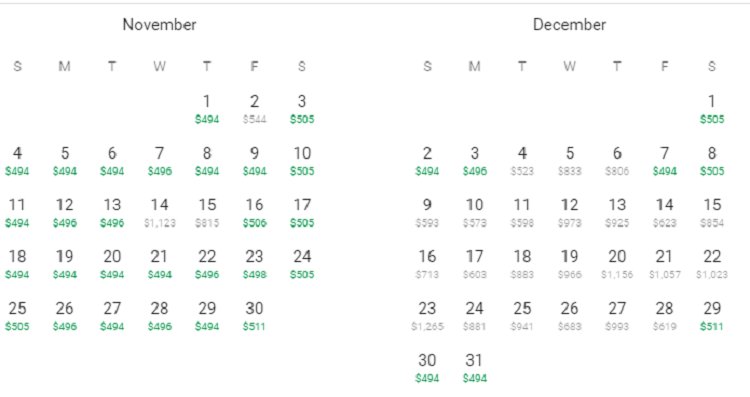 This old imperial city on the River Main – hence its full name, Frankfurt am Main – is, by virtue of its central situation, the most important commercial and economic center on mainland Europe. The city's skyline, dominated by the great cluster of high-rise buildings in the banking quarter, has a distinct North American flavor, earning Frankfurt the nicknames "Mainhattan" and "Chicago on the Main." Considered a global city – it frequently ranks in the top ten best cities in which to live and do business – Frankfurt has also long been an important center for cultural and tourism activities, its huge trade fair complex, Messe Frankfurt, hosting important events such as the Frankfurt Book Fair (the world's most important publishing event), along with many fine museums, galleries, and gardens.
In the heart of Frankfurt's Old Town (Altstadt), the Römerberg is an irregularly shaped square with the Justice Fountain (Gerechtigkeitsbrunnen) at its center. Not only is it Frankfurt's most picturesque public square, it's the city's busiest pedestrian zone, home to numerous tourist attractions from its many Kulturschirn, a form of open-fronted shop once common throughout the old town, to the Römer, a complex of 11 lovely old buildings from the 15th to 18th centuries that include the Old Town Hall (Altes Rathaus) with its Imperial Hall (Kaisersaal), once the scene of splendid banquets. Other notable buildings include the New Town Hall (Neues Rathaus) from 1908, the 14th-century Gothic Church of St. Leonhard, and St. Nicholas Church, notable for its carillon. Also of interest are the Historical Museum (Historisches Museum), founded in 1878 with its collections related to Frankfurt's rich cultural history from medieval to modern times, and the six traditional-style buildings of the Ostzeile.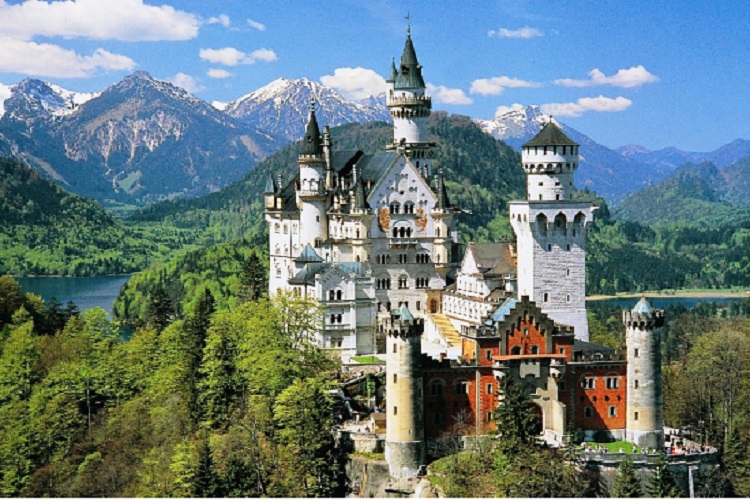 The Neuschwanstein Castle is one of the most visited castles in Germany and one of the most popular tourist destinations in Europe.   The castle is located in Bavaria, near the town of Fussen. It was built by King Ludwig II of Bavaria, also known as the "Fairytale King". See our Neuschwanstein Castle Tour page.  King Ludwig was a great admirer and supporter of Richard Wagner, the world-renowned composer.  Neuschwanstein Castle was built in his honor and many rooms in the castle's interior were inspired by Wagner's characters. The third floor particularly reflects Ludwig's admiration of Wagner's operas.The Singers Hall, which occupies the entire fourth floor of Neuschwanstein also contains characters from Wagner's operas.  Neuschwanstein literally means "New Swan Castle" referencing of "the Swan Knight" one of the Wagner's characters.
Neuschwanstein, a fairytale castle
The Neuschwanstein Castle looks like a fairytale castle. Neuschwanstein is a castle of the paradox, it was built in the 19th century in Bavaria, in a time when castles no longer had strategical and defensive purposes.  While Neuschwanstein's look is that of a medieval castle, it was equipped inside with state of the art technology at that time. For example on every floor of the castle there were toilets with automatic flushing system, as well as an air heating system for the whole castle. Water was supplied by a nearby spring situated at only 200 meters above the castle.   Neuschwanstein's positioning is also a fairytale one. It is located in the Alps in Bavaria, Germany, in a magnificent landscape, on the top of a hill, about 4 hours from Frankfurt. Neuschwanstein overlooks the Hohenschwangau valley. If you come to visit this castle, you will be amazed by the extremely beautiful landscape that surrounds it.
Also, Neuschwanstein lies very close to the town of Fussen, which is also a popular tourist destination in Germany.  The construction of the Neuschwanstein castle began in 1869, and originally it was projected to last three years. But Ludwig II wanted the castle to be perfect, so the immense building was not finished even at Ludwig's death in 1886 and it is not completely finished to this day.    Neuschwanstein Castle has a very beautiful inner garden surrounded by a walled courtyard. It even has an artificial cave. Neuschwanstein's interior is as beautiful as its outside. Though only 14 rooms were finished before Ludiwg II's sudden death in 1886, these rooms were majestically decorated.   The two story throne room was designed in Byzantine style, with wall paintings depicting angels. Ironically, there is no throne in the Throne Room, as Ludwig died before it was completely finished.   This fairytale look of the Neuschwanstein castle inspired Walt Disney to create the Magic Kingdom. Today, Neuschwanstein is the most visited castle in Germany, and one of the most popular tourist destination in the world. Every year over 1.300.000 people cross its gate.   Neuschwanstein Castle is definitely one of the most charming castles, and there are many interesting less known facts about it, that you can see by visiting our Interesting Facts about Neuschwanstein Castle page.