Come check out these incredible flights from Chicago to Poland for just $456 RT on British Air.  We have shown the dates at the bottom where cheap flights  are available below so check out your dates then use this link to get  the best possible prices.  Warsaw, the capital of Poland, has evocative sights, an epic history and low prices.  If you want to experience a truly 21st-century city, Warsaw's your place. There are two things to know about Warsaw on the sights front: 1) there are LOTS of things to see (a.k.a. get an early start on your day); and b) they can all be seen by foot (yay).
Here are some of the sample dates from the dates shown below at the bottom of this post for you to see low prices.
21 August-03 Sept
Sept 25 – Oct 8 – Just $456 RT on British Air
Oct 2nd-17th
Oct 2nd-22nd
Oct 5th-22nd
Oct 9-22 – Just $456 RT on British Air
Oct 9th-24th
Nov 13th-26th – Just $557 RT
Huge, famous and important, Warsaw is the country's cosmopolitan business hub.  Warsaw has good reason to be a city of the future: The past hasn't been very kind. Since becoming Poland's capital in 1596, Warsaw has seen wave after wave of foreign rulers and invasions — especially during the last hundred years.  But in this horrific crucible, the enduring spirit of the Polish people was forged. As one proud resident told me, "Warsaw is ugly because its history is so beautiful."
The city's darkest days came during the Nazi occupation of World War II. First, its Jewish residents were forced into a tiny ghetto. They rose up … and were slaughtered. Then, its Polish residents rose up … and were slaughtered. In retaliation, Hitler ordered the block-by-block destruction of the city.  While the Nazis destroyed the city, the approaching Soviets sat across the river, watching and waiting. As the smoke cleared and the Nazis retreated, the Red Army marched in and claimed the pile of rubble that was once Warsaw. It would be another 45 years before the Soviets would leave and the Poles could freely govern their capital and their country.   After the war they almost gave up on re-creating old Warsaw, but ultimately the Poles decided to rebuild, constructing a city of contrasts, with painstakingly restored medieval lanes, pedestrian-friendly parks and sleek skyscrapers.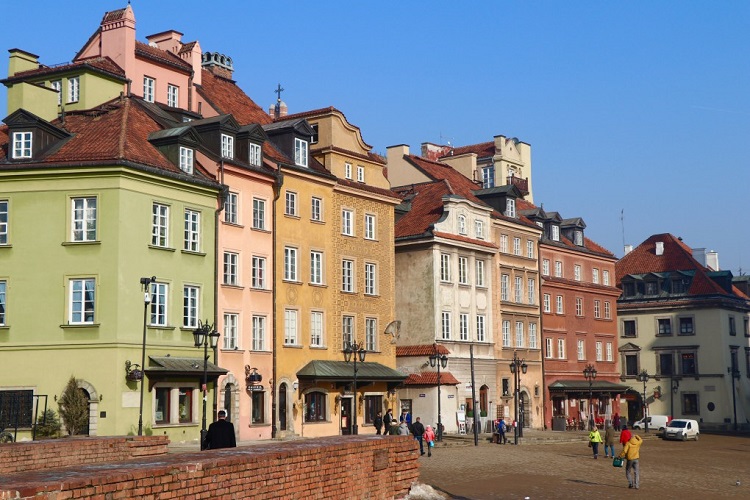 Here are the best departure date prices we have seen.  Prices are well into the thousands until Aug 9th, then they come down with low, low prices sprinkled though out the fall 2018 as shown below.  We can get over $100 more of a discount if you use the links above.