Check out this great airline flight sale from Chicago to Vienna, Austria for just $446 roundtrip.  Vienna is a wonderful treasure trove of historical attractions and excellent places to see, so it's hard to name just 7-10 must-visit spots. Personally we think Austria's capital city is one of the most stunning cities to live in, and there are many reasons for this: its rich culture, long-lasting tradition, stunning architecture, the way of living, amazing coffee houses, the capital city for classical music, and many many more…
The Ringstraße is the road surrounding the inner city (1st district) of Vienna with some of the most famous sights and attractions like the Opera House, Hofburg Palace, Parliament and City Hall. While wondering the street, take a side track into the lovely Burggarten to either rest a bit or to enjoy a cup of coffee in the Palmenhaus. Further along the way, you will come to the Votivkirche and then to the Danube Channel with many restaurants.  The Ring is definitely one of our favorite places in Vienna, simply because of the impressive buildings built around it and the atmosphere along the way…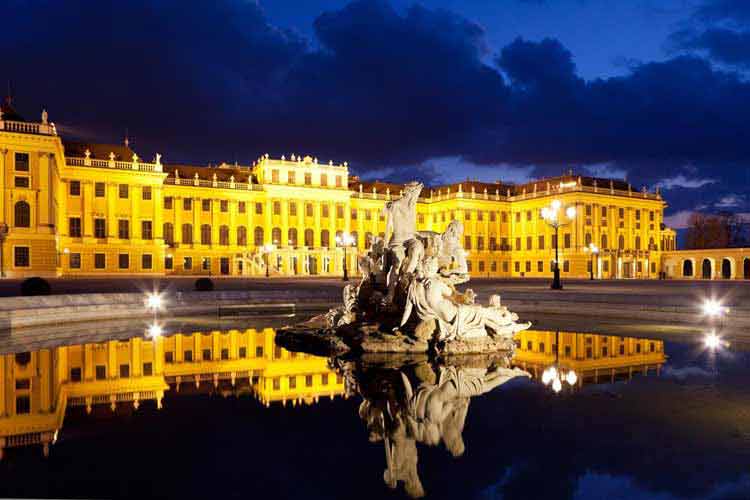 Schloss Schönbrunn: Schönbrunn is one of the most important cultural monuments and tourist attractions in Austria.  There's more to Schloss Schönbrunn than just the (very beautiful) castle; the park around Schloss Schönbrunn is a great little oasis in an otherwise busy city. It's perfect for long walks or a little jog. Jogging grounds in Vienna are rare, so naturally the park can get pretty crowed … best to go there early morning or late in evening.
Gloriette: The Gloriette in Vienna is the largest (and therefore most well-known) gloriette worldwide and is a nice café where you can refuel your energy.
Naschmarkt: The Naschmarkt is Vienna's most popular market and a real hot spot. Whether you want to go out for lunch or after work-cocktails … one of the many bars/restaurants will suit you for sure. You can also buy yummy fresh fruits and vegetables from around the world, exotic herbs, cheese, baked goods, meat and seafood.
How to get there:
The Naschmarkt is located at the Wienzeile in the 6th district of Vienna and is about 1.5 kilometres long. You can get there by metro line U4 station Kettenbrückengasse or Karlsplatz (also U1 and U2 go there).
Brunnenmarkt: The Brunnenmarkt is the longest street market in Europe, located in the 16th district of Vienna and (in my opinion) the "new" Naschmarkt. Over the years, many lovely restaurants have popped up around the Yppenplatz, which is the extension of Brunnenmarkt. The setting around the entire area is trendy yet still very cultural, and that's what makes Brunnenmarkt so diverse and "hot".
Fare Availability:
Valid for travel in May. A 7 day minimum stay is required. Must purchase at least 28 days in advance of departure.
Please note that while this fare is valid at time of posting, if this post is more than two days old, the fare is likely gone.
Here are some more tips for your trip that may make it more enjoyable than you expect:
1. Explore the old and new city. Like just about every European city, Vienna features a beautiful historic center with spectacular architecture and a towering church spire looming over everything. Still, to really see what makes it special, you'll want to get away from the crowds outside of St. Stephen's Cathedral and beyond the Ring Road, which circles the old city. The new part of Vienna is filled with cool stores, innovative restaurants and fantastic bars. Check out Schon Schon, Max and Bar a.m.
2. Save on transit. Vienna has an expansive and diverse public transit system that includes an underground Metro, buses and streetcar/tram system. There's a quirk that says you have to pay 2.20 euros if you buy your ticket on a tram or bus, but if you purchase an advance ticket it's only 1.80 euros. You can get those advance tickets at "Vorverkauf" ("advance tickets") kiosks in the Metro stations and at some tram stops. Also, if you're traveling on the transit system for only one or two stops, you can buy a "half-price ticket" for just 1.10 euros. Visitors can purchase unlimited-travel passes for a number of time periods; for 24 hours it costs 5.70 euros and for 72 hours it's 13.60 euros, and you can even get an eight-day ticket (27.20 euros). Thing is, Vienna is so easy to walk — and walking is always the best way to see a city — that you may not need to take transit more than twice a day, if at all, meaning you can stick to the advance tickets and save, or simply opt to stay on foot. When you want to travel to the outskirts of the city, you can purchase a 24-hour pass that can get you to Schonbrunn Palace and Grinzig in one day.
3. Know what you want to see. Vienna is one of those places that's going to surprise you. Once you get here you're going to want to stay and relax and get to know whatever attraction or establishment you've walked into, and you're also going to want to explore and see as much as you can. So, plan your visit. If you want to see a concert by the Vienna Philharmonic or Boys Choir, or catch a performance at the Golden Hall or see the Lippizaner Stallions, then book your tickets in advance. Otherwise you're liable to end up lingering at a coffeehouse or on a patio! The city's laid-back atmosphere is going to hook you.
4. Hit the museums and galleries. Few cities have as deep an appreciation and understanding of art as Vienna. Modern art installations throughout the city will make you stop and wonder. Some encourage you to interact, others to simply laugh. Such flair is everywhere here. It's like being at a Nuit Blanche but one with an extremely high level of talent and creativity on exhibit. So, walk into some galleries to see what's going on in modern art here and make sure you visit some of the museums. I got to the wonderful Kunsthistorisches Museum (12 euros admission) and to the terrific Belvedere Museum (9.50 euros and up), home to Gustav Klimt's "The Kiss." Both museums have amazing collections with many masters, including Vermeer, Velazquez and Rembrandt at the Kunsthistorisches and Munch, Cezanne and Monet at the Belvedere. "The Kiss" is even more exquisite than you might imagine.
5. Eat lots. The food here is really good. From the tortes at the Sacher Hotel and rival Demel to the goodies at the Naschmarkt to the delicous finger sandwiches and wine at Zum Schwarzen Kameel to the pastries at all the coffeehouses in town, there's a ton of delicious stuff to try. And a lot of it is deceptively light tasting, so if you're on a diet, consider leaving it at home for this trip.