Is it time to plan to get out of the Chicago cold?  We have been doing lots of research and have found some great flight deals in the next three months to New Orleans from Chicago for  just $88 RT on United. Limited availability from December 2017 to February 2018 (excluding Christmas/New Year).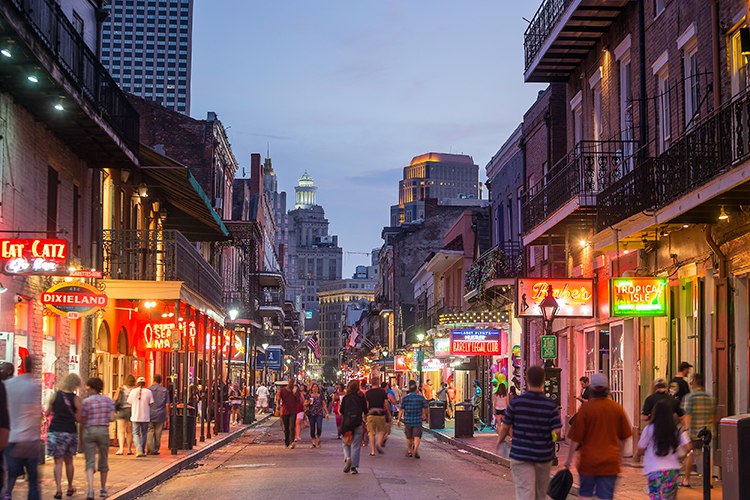 New Orleans is a Louisiana city on the Mississippi River, near the Gulf of Mexico. Nicknamed the "Big Easy," it's known for its round-the-clock nightlife, vibrant live-music scene and spicy, singular cuisine reflecting its history as a melting pot of French, African and American cultures. Embodying its festive spirit is Mardi Gras, the late-winter carnival famed for raucous costumed parades and street parties.
New Orleans' reputation looms large for a small city. Its music, food, history, and culture are known all over the world—so most visitors have an idea about the place before they ever arrive. It's a city that has been marinated in its own traditions for centuries, the French, Spanish, African, and American influences all apparent in the fabric of everyday life here. It feels like an independent Republic that's overcome decline and tragedy with a decadent resilience that has come to define it. It's a liberal, epicurean island in the middle of the Conservative South, but spend any amount of time here and it's obvious that there's a cultural depth that extends way beyond the hedonistic frivolity of Bourbon Street.
Strictly observed rituals that stem from Catholicism and Voodoo and general superstition still inform everything from Mardi Gras (the world's largest free party) to funerals, meaning that even daily errands can take on a cinematic flourish.
SAMPLE dates:
Chicago – New Orleans
2nd-6th Dec – Just $81 RT on American
5th-9th Dec
6th-11th Dec
6th-13th Dec – Just $88 RT on United
17th-25th Dec
18th-25th Dec
6th-11th Jan – Just $88 RT on United
Feb 26th – Mar 3rd
New Orleans – Chicago
5th-12th Dec
5th-13th Dec
5th-14th Dec
6th-12th Dec
6th-13th Dec
6th-14th Dec
7th-12th Dec
7th-13th Dec
9th-14th Dec
9th-17th Dec
9th-18th Dec
13th-18th Dec
21st-26th Feb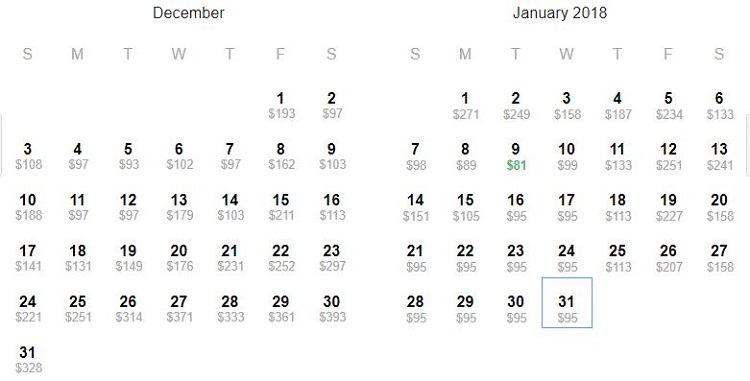 The number one tourist area in the French Quarter. If you want to experience New Orleans properly, it's best to begin your tour here. As one TripAdvisor user put it, "You cannot visit New Orleans without making a stop in the French Quarter." The neighborhood, also known as Vieux Carré, is the heart and soul of this city, and it's also a National Historic Landmark. As the site of the original New Orleans colony (established by the French in 1718), the French Quarter has held on to its heritage, complete with street names that are still listed in French. Wander the narrow cobblestone streets to find such attractions as Jackson Square, the Faulkner House and the Cabildo. While you're strolling, pay attention to the neighborhood's architecture: balconies are designed with baroque ironwork and hanging plants, while leafy courtyards are filled with bubbling fountains. The scene is definitely charming, but it can also be expensive if you choose to stay at any of the French Quarter's hotels.
Undoubtedly, the French Quarter's main draw is Bourbon Street — New Orleans' infamous party hub. You'll find this street laden with street performers and fortune tellers as well as rowdy bars. Although a trip to New Orleans isn't really complete without strolling down Bourbon Street, keep in mind that rowdy evenings on Bourbon are best appreciated by adult travelers. If you're tempted to hang your hat on Bourbon Street, don't. While it's fun to be at the center of the action, there's really no escaping the late-night noise.
If you prefer a tamer French Quarter experience, opt for a day tour. You can tour the neighborhood several different ways: Mule-drawn carriage tours line up daily on Decatur Street in front of Jackson Square taking groups of four through the crowded district. You can also take in the area from a completely different perspective — on the water via a Steamboat Natchez Cruise. Find more information about walking tours on the French Quarter's website. Several streetcar and bus lines service the neighborhood, including the Canal, Riverfront and Loyola lines, and bus route Nos. 5 and 55.
Hit hard by Hurricane Katrina and the failure of the federal levee system, the city is still finding its way, with new enterprises moving in to revitalize neighborhoods while continuing the diversity that has been a feature of this port city's population since its inception. The climate is tropical, meaning that spaces from City Park to Jackson Square are always buzzing, though the tempestuous rains mean that when you visit New Orleans, afternoons in the National World War II Museum or New Orleans Museum of Art are just as popular. Food is a daily celebration, whether it's po-boys at Parkway Tavern or the tasting menu at Restaurant August, while the jazz clubs of Frenchmen Street keep the city's most famous export alive. To help you navigate this beguiling city, T+L's New Orleans travel guide highlights the best places to eat, stay, shop, and visit in Louisiana's cultural capital and the surrounding area