Tomorrow is the day of the solar eclipse that will cross the USA. The eclipse begins its cross-country trajectory over the Pacific Coast of Oregon in late morning. It will reach South Carolina's Atlantic shore some 90 minutes later. The total eclipse of the sun is considered one of the most spell-binding phenomena in nature but it rarely occurs over a wide swath of land, let alone one of the world's most heavily populated countries at the height of summer. The Oregon Department of Transportation (ODOT) is warning drivers that the Monday celestial event could cause some of the worst traffic jams in the state's history.
HERE IS THE PATH OF THE SOLAR ECLIPSE – CLICK HERE FOR THE HUGE ENLARGED IAMGE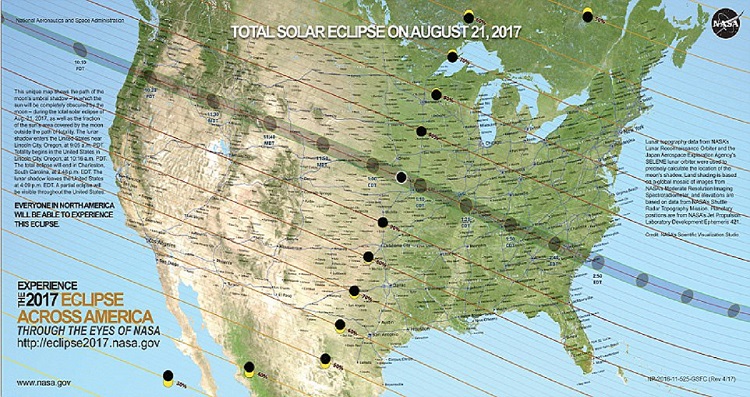 If you liked this post, why not get our newsletter, with all the latest deals, delivered right to your inbox? Our flight deals newsletter will revolutionize your travel and vacations. Snag bargains on extraordinary flights. That August trip to Paris? Under $500 RT. Cross country flights? Under $175 RT. Can't-miss travel experiences, all handpicked by our editors—and all steeply discounted. Get all the deals on flights plus insider travel tips and news, inspiring photography, and the latest on the world's most exceptional destinations, plus special offers.