Boston and all its history is calling you and now we have the cheap flights from Chicago for you to get there!  We have found some great deals on some  great cheap flights out of Chicago to Boston in Sep-Dec for only $102 RT – on United and Jet Blue – see links below.   Valid for travel from June – early December for Tuesday, Wednesday and Saturday departures and returns. Availability is limited. Must purchase at least 14 days in advance of departure.
Boston's nearly four centuries of history are showcased by the city's must-see sites. Start your city tour on the Freedom Trail, which will lead you to landmarks like the Paul Revere House and Boston Common. Or, discover Beantown's artsy side at the Museum of Fine Arts and its fashion sense along Newbury Street. If you're a fan of baseball, you can't miss catching a game at Fenway Park, home to the beloved Red Sox. Though blowing through your travel fund is an easy thing to do in Boston, there are also plenty of things to do that won't cost you a penny; the lovely Boston Public Garden and the lively Faneuil Hall Marketplace can be experienced without opening your wallet.
SAMPLE FLIGHTS: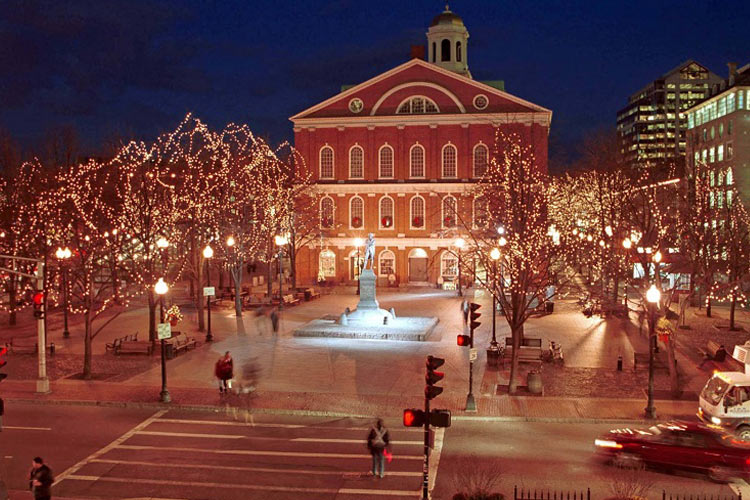 OUR FAVORITE
Four buildings – Faneuil Hall, Quincy Market, North Market and South Market – constitute Faneuil Hall Marketplace, with the oldest being Faneuil Hall. Built in 1742 and now located on the Freedom Trail, Faneuil Hall has had a long and important history in Massachusetts politics. Samuel Adams once stood here to push for resistance against the British, and abolitionists and suffragists have stood on their soapboxes here. In fact, this is where Jonathan Mayhew famously challenged the Sugar Act of 1764 by proclaiming, "no taxation without representation." Since Mayhew's declaration, the marketplace has expanded to include more than 100 shops and restaurants.
Some former visitors caution that the items sold at Faneuil Hall Marketplace are a bit overpriced. However, if you're looking to kill some time or snap some great photos, consider strolling through the market's halls. You'll also find various cuisines served in Quincy Market if you're in need of a quick bite. Keep in mind that this market gets crowded quickly (especially on weekends and in the summer), so it's best to visit during a weekday if you don't want to encounter hordes of people.
The marketplace welcomes visitors Monday through Saturday from 10 a.m. to 9 p.m. and on Sundays between noon and 6 p.m. (Restaurant and store hours may vary, so it's best to consult Faneuil Hall Marketplace's website before you visit.) To reach Faneuil Hall Marketplace, which sits just south of the North End in downtown Boston, travelers can take the "T" to the Aquarium, Haymarket or Government Center subway stations. Eight bus routes stop a block away on Congress Street, and a parking garage can be accessed on Broad Street. An hour of parking will cost you $28, but garage tickets can be purchased on the 75 State Street Garage website for a reduced rate, and parking validation coupons are available through select retailers. No fees apply to enter any of Faneuil Hall Marketplace's buildings, and free tours and performances are occasionally provided in South Market and outside Faneuil Hall.