Minneapolis is now thawing as summer approaches  and now we have some cheap flights from Denver for you to get there!  We have found some great deals on some  great cheap flights out of Denver to the Minneapolis Minnesota area in June for only $101 RT on United and others – see links below.  
HERE ARE BEST DEPARTURE DATES for 7 DAY ITINERARY
May 20, 23, 24, 27
June 6
Slightly More:
May 15, 16, 1731
June 4, 5, 17, 27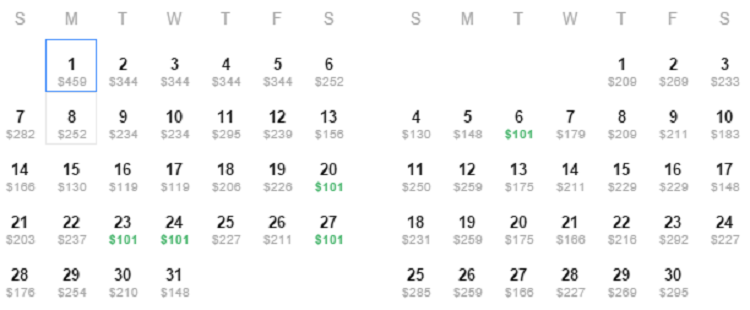 Minneapolis and St Paul, the Twin Cities on the upper course of the Mississippi, together form the largest city in Minnesota. Minneapolis is the quintessence of the glistening modern American city. The city has extensive parks and green spaces, and is also the commercial center of one of the largest farming areas in the United States.    The city grew out of two mills built at the St Anthony Falls in 1847. Although this was Indian country, other settlements soon followed, and these displaced the Indians, whose reservation was moved elsewhere. The city's name comes from the Indian word minne, meaning water, and the Greek polis, meaning city.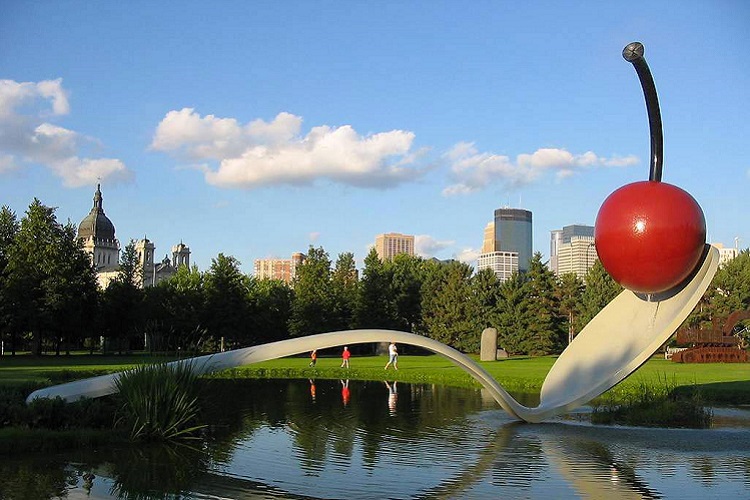 Looking for the perfect mix of attractions and affordability? Minneapolis is your destination. Whether you're traveling with your family, your buddies, or on a romantic holiday, this city has something for everyone and every budget. Here are some of the city's best attractions that will cost you very little or nothing at all.
1. Free art exhibits every day
Minneapolis is a haven for the culturally inclined, and strolling through one the city's premier galleries is a cozy way to spend a day indoors. The Minneapolis Institute of the Arts offers free admission every day. The Walker Art Center, a local favorite for its variety of paintings, photography, performance, and film art, is free to visit on Thursday nights and the first Saturday of every month. Additionally, travelers can roam through the Walker Art Center Sculpture Garden, which features the famous Spoonbridge and Cherry outdoor sculpture, for free any time.
2. The world's largest flour mill
Nestled in the quaint waterfront district, overlooking the Mississippi River, travelers will find the Mill City Museum. Once the world's largest flour mill, this museum tells the history of Minneapolis, the flour industry, and the Mississippi River. Sample fresh-baked bread at the Baking Lab, watch the entertaining "Minneapolis in 19 Minutes Flat" film, and pick up a souvenir at the gift shop. Before you leave the museum, take your camera to the ninth floor observatory and snap pictures of St. Anthony Falls and the Mississippi River. This museum is a bargain for families. Adult admission is $11, child admission is $6, and kids under the age of 5 are free.
3. A music venue that was converted from a bus terminal
Want to rock-out with a band before the world knows their name? Visit First Avenue and 7th Street Entry music venues in downtown Minneapolis. You'll find both of these venues in the same landmark building. Originally a Greyhound Bus terminal, the building features a distinct Art Deco design and 531 stars on the exterior commemorating past performers. But it's the party inside that continues to attract tourists and locals alike. Many concerts here cost less than $30 per person. Check at least a week in advance for concerts as they sell out quickly; however, TiqIQ frequently has last minute concerts at 7th Street
4. Massive urban bike trail
Avid bikers feel right at home in Minneapolis. With the largest urban trail system in America and a generally flat topography, bicycling is safe and easy for riders of all skill levels. Follow the bike trails along the Chain of Lakes and Mississippi River to view what drivers can't see from their cars. If you can't bring your own bike along, just pick up a rental from the city's Nice Ride service. You don't have to navigate Minneapolis's massive trail system alone; take part in a local bike tour for just $35. You can customize these local tours to fit your interests and endurance.
5. The Vikings at TCF Bank Stadium
As sporting events go, NFL football is by far one of the most exciting. Get loud with the crowd of passionate Minnesota Viking fans at TCF Bank Stadium as they cheer their team to a win. With division rivals such as the Detroit Lions and Green Bay Packers, every home game is exciting. Bring along a horned Viking helmet and you're sure to blend in with the die-hard fans. And you can go to Scorebig.com to get viking tickets at below face value, so long as you book them far out in advance.
6. You can drown yourself in beer…and be happy
The Beer Garden at the Butcher and the Boar is a popular spot to spend happy hour. With a variety of local beers on tap, you'll get a true taste of Minneapolis. You'll also want to sample the affordable snacks and the restaurant's famous sausages at this "must-eat" Minneapolis restaurant.
7. The Stone Arch Bridge
Perhaps the most photographed landmark in the city, the Stone Arch Bridge is a National Civil Engineering Landmark. Spanning the Mississippi River, this scenic bridge was built in 1882 by the Minneapolis Union Railway Company. Today, only bikes and pedestrians can cross the bridge. Take an afternoon walk over the bridge, from the Mill Ruins Park downtown to the Father Hennepin Bluffs Park on the east bank. Be sure to stop halfway across to take in a panoramic view of St. Anthony Falls.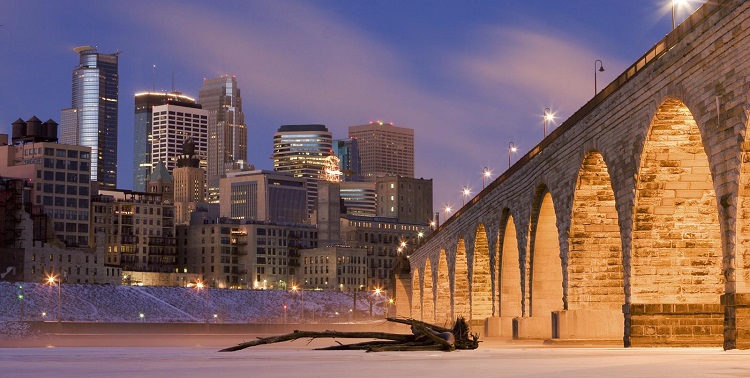 8. The Como Park Zoo
The Como Park Zoo and Marjorie McNeely Conservatory is a perfect family friendly attraction. Children will love catching glimpses of tigers, polar bears, and gorillas. For a more interactive experience, the zoo offers special events like story time and meetings with zoo keepers. Admission to the zoo is always free, though the facility appreciates donations of $2 to $3 to support their work. If you're staying at a hotel downtown during the summer, take advantage of the zoo's free shuttle service that runs from May to September.
9. You can catch some fish (or pucks) in one of 22 lakes
Home to 22 lakes in the metropolitan area, Minneapolis offers ample opportunity to get active on the water or on the ice. Fishing for bass, northern pike, and musky is a popular pastime in Minneapolis. Take part and cast your line from a canoe, the shore, or an ice-fishing hut. Looking for more lake activities? Consider kayaking the shores of the Chain of Lakes in the summer, or join an impromptu pond hockey game in the winter.
10. Sales Tax-Free Shopping….boom
Just outside of downtown Minneapolis, shoppers will find the Mall of America. With no sales tax on clothing, budget lots of time to browse the hundreds of stores. As one of the world's largest indoor malls, there's more to do here than just shop. Visit the sea lions at the on-site aquarium, ride a roller coaster at the amusement park, laugh along at the comedy club, challenge your kids to a game of mini-golf, or dine at one of the 50 restaurants. Need more ideas for your upcoming Minneapolis trip? Visit the Minneapolis tourism site to help design your ideal itinerary, or head over to Weotta for lists of fun activities and events that update daily.

If you liked this post, why not get our newsletter, with all the latest deals, delivered right to your inbox? Our flight deals newsletter will revolutionize your travel and vacations. Snag bargains on extraordinary flights. That August trip to Paris? Under $500 RT. Cross country flights? Under $175 RT. Can't-miss travel experiences, all handpicked by our editors—and all steeply discounted. Get all the deals on flights plus insider travel tips and news, inspiring photography, and the latest on the world's most exceptional destinations, plus special offers.