Ready to find some warm sunny beaches for a little R&R?  Why not check out Cozumel in Mexico?  You can get some amazing cheap flights there right now from the Washington DC Area- Just $277 RT.    The island of Cozumel is located off Mexico's eastern coast. Cozumel sits within the Caribbean Sea, south of Cancun and near Playa del Carmen on the mainland. Part of the Mexican Mayan Riviera, tourists like to go to Cozumel primarily for the beaches and water recreation. The island experiences tropical weather and offers three cruise ship piers, including an international pier. Most visitors travel to Cozumel to dive and see its wonderful underwater life. While there are quite a few beach clubs that offer snorkeling, the main attractions are the reefs offshore and the multiple dive shops and operations are always ready to take you there.   The main town, San Miguel, and dive operations are on the west side of the island, but if you rent a car or scooter then the east side of the island is the place to go. The east side of the island is mostly undeveloped, but there are beautiful beaches, big waves, and rocky outcrops over the ocean. If the waves are sufficient you can find a few small blow holes. (Be aware that the waves and attendant undertows can make swimming on the east side very dangerous, however.) You will also find a restaurant on the beach every few kilometers.  Cozumel also offers several Mayan archaeological sites. The most extensive vestiges are those at "San Gervasio" (admission fee is 77 pesos), an inland site a few miles north of the "Carretera Transversal" highway. Another site is located near the village of El Cedral, inland from the "Carretera Costera Sur" highway. In Punta Sur Park, at the southern tip of the island, there is the "El Caracol" temple, believed to have been used as a lighthouse by the Mayans.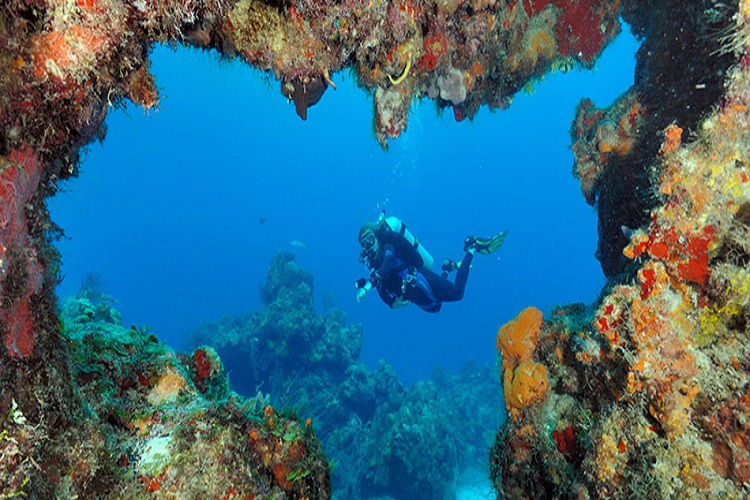 Some our our sample Itineraries:
25th Apr – 2nd May – Just $277 Roundtrip
29th Apr -10th May – Just $277 Roundtrip
2nd May – 10th May – Just $277 Roundtrip
22nd May – 1st Jun – Just $277 Roundtrip
31st May – 8th Jun – Just $282 Roundtrip on United
26th Jun – 4st Jun – Just $282 Roundtrip on United
4th-10th Jul – Just $297 Roundtrip on United
4th-13th Jul
11th-19th Jul
25th Jul – 3rd Aug
1st-10th Aug
7th-17th Aug
14th-24th Aug
9th-16th Sep
16th-23rd Sep
24th-31st Oct
31st Oct – 7th Nov
7th-14th Nov
14th-21st Nov
28th Nov – 5th Dec
2nd-9th Dec
9th-16th Dec
Mayan Ruins
Cozumel holds several ancient Mayan ruins sites. San Gervasio is the largest site on the island and the shine of the goddess of fertility Ix Chel. The island contains 24 sites discovered thus far, including El Cedral and the coastal watchtower Castillo Real. Visitors may also join a larger tour including sites on the Yucatan Peninsula.
Beaches
The list of Cozumel's beaches is an impressive one for an island only 32 miles long and 9 miles wide. The beaches include Passion Island Beach, Playa Uvas, Playa Corona and Paradise Beach. According to the This is Cozumel website, San Francisco is a family beach, Palancar Beach is a quieter area and Playa San Martin offers unspoiled beauty on the eastern side of the island. Paradise Beach serves as an example of all of Cozumel's beaches, lined with coconut palms, featuring white sands and clear water. Paradise Beach also has a heated pool, restrooms and changing rooms.
Diving
A large number of coral reefs ring the island. The reefs are a part of the Cozumel Reefs National Marine Park. Dives in the area range from 25 feet to 130 feet in depth, depending on the reef, and area dives range from beginner level to advanced. Dive shops and scuba instruction are available on the island. Businesses such as Aqua Safari offer specialty diving courses for night dives, deep and drift diving.
Natural Areas
Punta Sur Eco Park, a 2,700-acre reserve, allows visitors to snorkel Chunchacaab reef, enjoy a catamaran ride or kayak tour of Colombia lagoon and explore the Celarain lighthouse or the Mayan ruin El Caracol. The park brings visitors close to wildlife and tropical flowers. Punta Sur Beach has restrooms and showers for those who want to go swimming and sunning.
Parks
Cozumel's parks offer visitors a wide variety of activities in and out of the water. At Chankanaab Park, only 3 miles from the cruise ship terminals, guests can try water recreation such as snorkeling, scuba, snuba, seatrekking, parasailing and kitesurfing. Guests also have the opportunity to swim with manatees, sea lions and dolphins. The park offers hammocks, beach chairs, huts, restrooms and showers for those who want to relax on the beach. At Playa Mia Grand Beach Park, guests may learn to prepare Mexican cuisine; visit the shopping center for crafts, clothing, jewelry and beach supplies; snorkel, scuba dive, take a banana boat ride or enjoy an outdoor massage. The park offers beach games, a swimming pool and free parking. For kids, the park contains puzzles and giant-sized games. Craft sessions, sand castle contests and Spanish language lessons are also available. The park rents lockers, towels and umbrellas to guests for use on the nearly 500 feet of sandy beach.