Are you ready for a weekend in Vegas? Check out these really great cheap flights from Chicago to Las Vegas for only $77 roundtrip — on selected United and American flights from March to June 2017 departures.  Availability is limited and cheapest flights have at least 4 day itinerary. Must purchase at least 7 days in advance of departure. Las Vegas, in Nevada's Mojave Desert, is a resort city famed for its vibrant nightlife, centered around 24-hour casinos and other entertainment options. Its main street and focal point is the Strip, just over 4 miles long. This boulevard is home to themed hotels with elaborate displays such as fountains synchronized to music as well as replicas of an Egyptian pyramid, the Venetian Grand Canal, and the Eiffel Tower.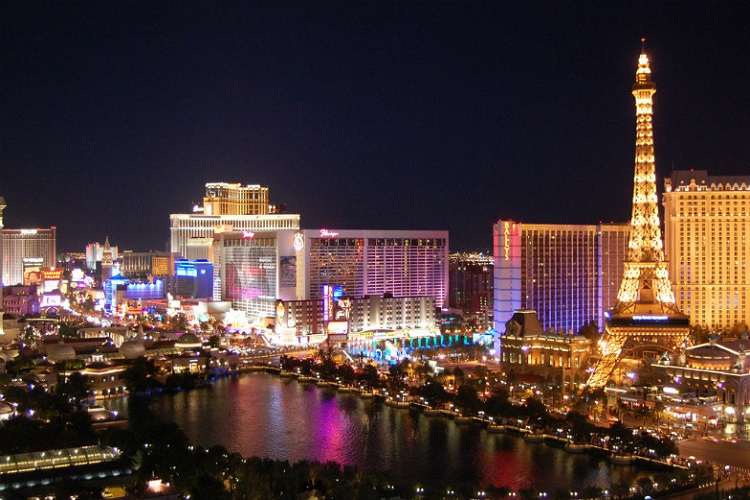 Your Las Vegas visit will most likely revolve around the Strip — this is where you'll find all the iconic neon lights and famous (albeit somewhat kitschy) sights. This is where Lady Luck will make or break your bank account, with table games and slot machines available all along Las Vegas Boulevard South. There are even other diversions attached to the casinos: You can take a gondola ride at The Venetian, check out the view atop the Eiffel Tower at Paris, Las Vegas or enjoy the fantastic fountain show at the Bellagio. The Strip is also the best place to get your party on, with many of Vegas' most popular nightclubs. If you can part with the glitz and glam of Las Vegas Boulevard, you'll discover several worthwhile things to do in other parts of town. Check out the Fremont Street Experience's lightshow, enjoy a history lesson at the Mob Museum or the Neon Museum, or stretch your legs at Red Rock Canyon. And if you have the time, plan a quick road trip to the Hoover Dam.

If you liked this post, why not get our newsletter, with all the latest deals, delivered right to your inbox? Our flight deals newsletter will revolutionize your travel and vacations. Snag bargains on extraordinary flights. That August trip to Paris? Under $500 RT. Cross country flights? Under $175 RT. Can't-miss travel experiences, all handpicked by our editors—and all steeply discounted. Get all the deals on flights plus insider travel tips and news, inspiring photography, and the latest on the world's most exceptional destinations, plus special offers.