We have found some great flights for you this summer from Chicago to Oslo Norway in Aug-Nov 2021. These cheap flights from Chicago to Oslo, Norway are only $412 RT.    Valid for travel on the outbound from late August – late November. A 7 day minimum stay is required. Must purchase at least 7 days in advance of departure  Cheap flights from Chicago to Oslo, Norway for only $412 roundtrip with SAS.
DEPART: Chicago, USA
ARRIVE: Oslo, Norway
RETURN: Chicago, USA
DATES: Availability from August to November 2021
Most tours of Norway begin in the capital city and rightly so — Oslo is home to many of Norway's top cultural attractions as well as a surprising number of parks and recreational areas, not to mention a flourishing restaurant scene and bustling shopping streets.
To brush up on Norwegian culture and history — especially Norway's seafaring heritage, visiting Oslo's Bygdøy peninsula is a must. This neighbourhood on the city's west side contains several of Oslo's top museums, including the Norwegian Museum of Cultural History, the Viking Ship Museum, the Kon-Tiki Museum, the Norwegian Maritime Museum and the Fram Museum.
Example dates:
26th Aug – 2nd Sep
28th Aug – 4th Sep
3rd-10th Sep
5th-12th Sep
7th-14th Sep
9th-16th Sep
11th-18th Sep
13th-20th Sep
15th-22nd Sep
17th-24th Sep
19th-26th Sep
23rd-30th Sep
25th Sep – 2nd Oct
27th Sep – 4th Oct
29th Sep – 6th Oct
1st-8th Oct
3rd-10th Oct
5th-12th Oct
7th-14th Oct
9th-16th Oct
13th-20th Oct
15th-22nd Oct
17th-24th Oct
19th-26th Oct
21st-28th Oct
23rd-30th Oct
25th Oct – 1st Nov
27th Oct – 3rd Nov
29th Oct – 5th Nov
31st Oct – 7th Nov
6th-13th Nov
8th-15th Nov
10th-17th Nov
12th-19th Nov
14th-21st Nov
16th-23rd Nov
18th-25th Nov
22nd-29th Nov
and more…
STOPS:
Stockholm
AIRLINES:
SAS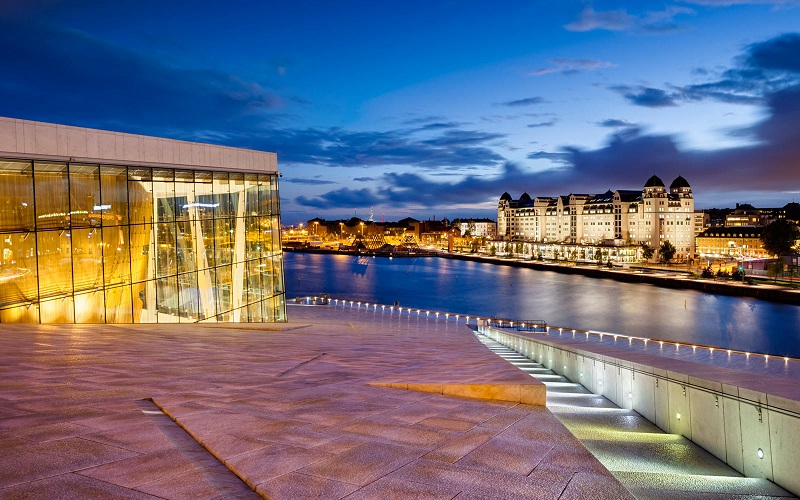 If it's Norwegian art you're interested in, don't miss a stroll through Vigeland Sculpture Park, the world's largest sculpture park designed by a single artist and and one Norway's top tourist attractions. Works by Norway's most famous artist, Edvard Munch, can also be seen in Oslo at the Munch Museum and the Norwegian National Gallery, where Munch's famous painting "The Scream" is displayed.
For more great design, check out the grand architecture of the Royal Palace — home to the Norwegian Royal Family — and the award-winning, modern Oslo Opera House on the waterfront overlooking the Oslo Fjord.
For dining, shopping and overall people watching in the city centre, head to Karl Johans gate, Oslo's high street, or Aker Brygge, the old waterfront that's now a trendy neighbourhood with vibrant cafes and bars.
GETTING TO OSLO
Norway's main international airport is Oslo-Gardermoen Airport, with direct flights from dozens of major cities in Europe and North America. Oslo Airport is connect to the city centre via the Flytoget airport express train and various airport busses.
TRAVEL FROM OSLO TO THE FJORDS
Want to see the Norwegian fjords and other famous attractions in western Norway? If you have around 7 days or more, you can extend your trip from Oslo to Norway's west coast. A road trip between May and September is the way to go if you want to do some hiking and see the top attractions at your own pace.
From Oslo you can also also take a round-trip Norway in a Nutshell railway journey to Bergen, a route encompassing a steep and picturesque train ride over the mountains, a short cruise on the majestic Nærøyfjord and some free time in the colourful fjord village of Flåm.
VISIT SWEDEN & DENMARK FROM OSLO
With 10 – 14 days or more to travel, you can easily travel by train or ferry to neighbouring Sweden and other Scandinavian countries. Whether you travel on your own or in the company of a guided small group, Nordic Visitor makes it easy to combine visits to Oslo, Stockholm, Copenhagen and Helsinki all in one tailor-made itinerary.