Are  you headed home for Christmas to New York from Chicago and looking for a great cheap flight?  Look no further, but act now, as American Airlines is offering $114 RT flights at Christmas and New Years.   (these cheap flights are also available in reverse from New York to Chicago, if you want to have relatives come visit you).
Once you get to New York, and see the sights, if you still have some energy (and cash) left over, don't miss the chance to snag tickets to an award-winning Broadway show or hop over to one of the low key rooftop bars and jazz clubs illuminating the Meatpacking District after dark.  New York is practically synonymous with Broadway (and the other way around). In other words: No trip to this city is complete without taking in a Broadway show. But, don't procrastinate: The superstar shows, like Book of Mormon and Lion King, can often sell out, so it's best to book at least three months in advance. Prices for these huge hits don't fluctuate much, so there's little reason to wait. Plus, if you have your heart set on a certain night — say, a Friday or Saturday night performance, working in your show around important dinner reservations or bringing a large group of family or friends, get your tickets now.
 WHAT TO EXPECT IF YOU ENJOY NEW YEARS EVE IN NEW YORK CITY
As the famous New Year's Eve Ball descends from the flagpole atop One Times Square, an estimated one million people in the street, millions nationwide and over a billion watching throughout the world are united in bidding a collective farewell to the departing year, and expressing our joy and hope for the year ahead. Here's everything you need to know about joining the celebration live, in person!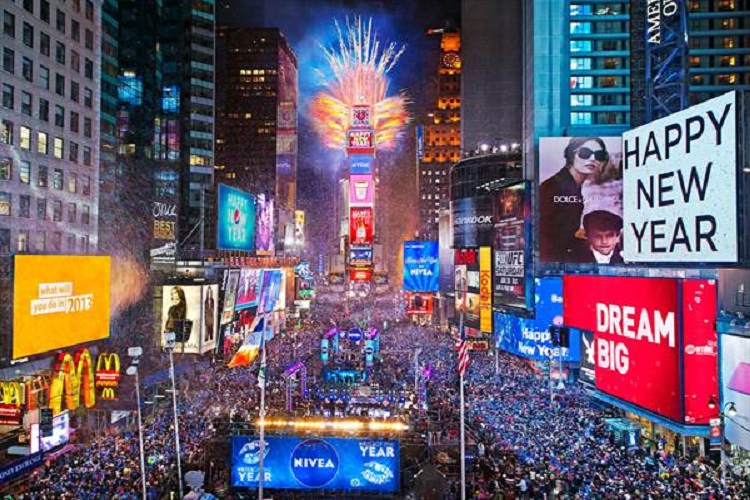 Revelers start arriving late in the afternoon on New Year's Eve. By approximately 3:00 p.m., the Bow Tie of Times Square (42nd to 47th Sts. between Broadway & 7th Ave.) is fully closed to traffic. Revelers are directed by the NYPD to gather in separate viewing sections. As one section fills up, the revelers are directed by police to the next viewing section. As the evening progresses, revelers continue to fill the Times Square neighborhood along Broadway and Seventh Avenue moving uptown from 43rd Street to as far as Central Park. If you are planning to come to Times Square and join in the festivities, you are advised to enter from Sixth or Eighth Avenue. Your chance of getting a viewing spot near the Ball (at Broadway & 43rd Street) increases the earlier you arrive. The blocks will be closed off as they fill up northward, street-by-street, as the police deem necessary. The Ball can best be seen along Broadway, from 43rd Street to 50th Street, and along Seventh Avenue, as far north as 59th Street, so plant to arrive early to grab the best possible spot.
The celebration begins with the lighting and raising of the New Year's Eve Ball atop One Times Square. The Ball is lit at 6:00pm and begins its ascent accompanied by special pyrotechnic effects. Then, the Times Square Alliance sanitation crew, clad in bright red uniforms, begins to distribute tens of thousands of fun party favors—those famous hats, glasses, and noisemakers— to the Times Square revelers to help cheer in the New Year.
Let not forget one of the most exciting parts of New Year's in Times Square— the New Year's Rockin' Eve performances! The stage will come to life at around 8pm with some of your favorite musical guests. This year's host will be national television and radio star Allison Hagendorf. The 2015 farewell show features a performance by pop sensations Taylor Swift!
Sixty seconds before the big moment, the New Year's Eve Ball begins its descent. At the stroke of Midnight, the Ball's lights on are turned off as the numerals of the New Year "2016" burst to life shining high above Times Square. The world-famous New Year's Eve confetti is released from the rooftops of buildings throughout Times Square creating a celebratory blizzard of colorful confetti as revelers welcome the New Year accompanied by colorful pyrotechnic effects.
So that only leaves one question—where will YOU be this New Year's Eve?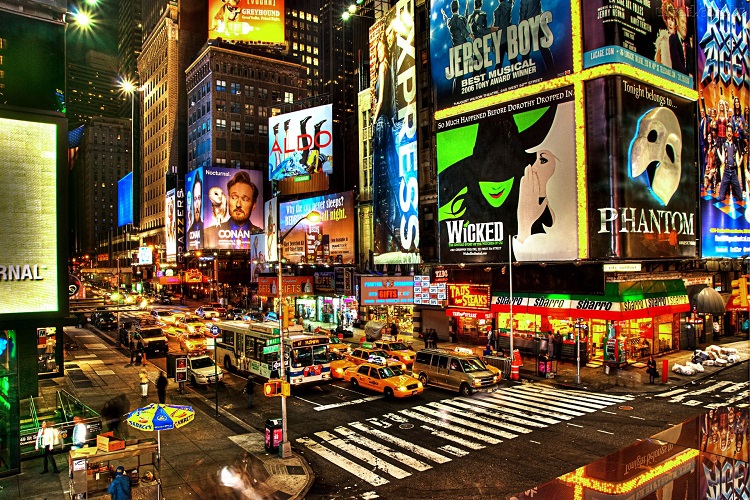 OUR FAVORITE FREE THING TO DO IN NEW YORK?    CENTRAL PARK  
Central Park in New York City swallows central Manhattan, and many of the city's most notable attractions are situated next to it or within its limits (the Guggenheim, the Metropolitan Museum of Art and the American Museum of Natural History, to name a few). But travelers insist that you shouldn't just pass through Central Park on your way to another place. This 843-acre Eden is a favorite of New Yorkers and tourists; you can come here to exercise, dine, go to the zoo and more.
Almost everyone has a positive impression of the park, but no one has quite the same experience, or recommends that you do quite the same thing. There's an almost impossible amount of sights to see here (including 20 playgrounds, 48 fountains, monuments or sculptures and 36 bridges), but here's a shortlist:
Alice in Wonderland: This 11-foot tall statue sits upon a magic mushroom off 75th Street in the lower east side of the park. She's surrounded by the Mad Hatter, the Cheshire cat and plenty of fascinated little kids.
Bethesda Fountain: This romantic fountain's name refers to a pool in Jerusalem with healing powers. While you're there, be sure to snap a few photos of the Angel of the Waters sculpture that tops this mid-park sight.
Jacqueline Kennedy Onassis Reservoir: New Yorkers love to jog by this beautiful 106-acre body of water located mid-park. It's especially scenic in autumn, when the surrounding trees are ablaze with seasonal colors.
Loeb Boathouse: During the warm weather months you can rent a boat, bike or gondola from this Victorian-style boathouse and restaurant, located around East Park Drive next to the Bethesda Fountain.
Strawberry Fields: Named after John Lennon's song, this lower west park area (at West Park Drive and West 72nd Street) sits across the street from where the singer was assassinated in 1980. Visitors like to come here to eat lunch, admire the landscaping, or pay tribute to the Beatles.
Wollman Memorial Rink: This lower-east side spot is particularly popular with young families. In winter it's a popular ice skating rink; come summer, it's where you'll find the Victorian Gardens Amusement Park.
Central Park welcomes visitors daily from 6 a.m. to 1 a.m., but as with any out-of-doors site in a major city you're better off visiting in the day or early evening. Check out the park's official website for maps, information on all the activities available and special events.