Are  you headed home for Christmas to Atlanta from Chicago and looking for a great cheap flight?  Look no further, but act now, as American Airlines is offering $71 RT flights at Christmas and New Years.   (these cheap flights are also available in reverse from  Atlanta to  Chicago, if you want to have relatives come visit you).
Atlanta is the capital of the U.S. state of Georgia. It played an important part in both the Civil War and the 1960s Civil Rights Movement. Atlanta History Center chronicles the city's past, and the Martin Luther King Jr. National Historic Site is dedicated to the African-American leader's life and times. Downtown, Centennial Olympic Park, built for the 1996 Olympics, encompasses the massive Georgia Aquarium.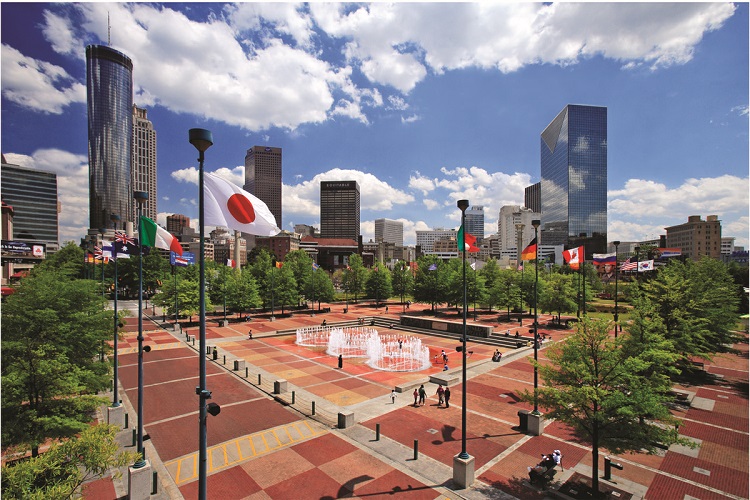 Here are the 7 night itinerary prices flying American from  Chicago to Atlanta on Google Flights – But if you book HERE, you will save $10-$30 per flight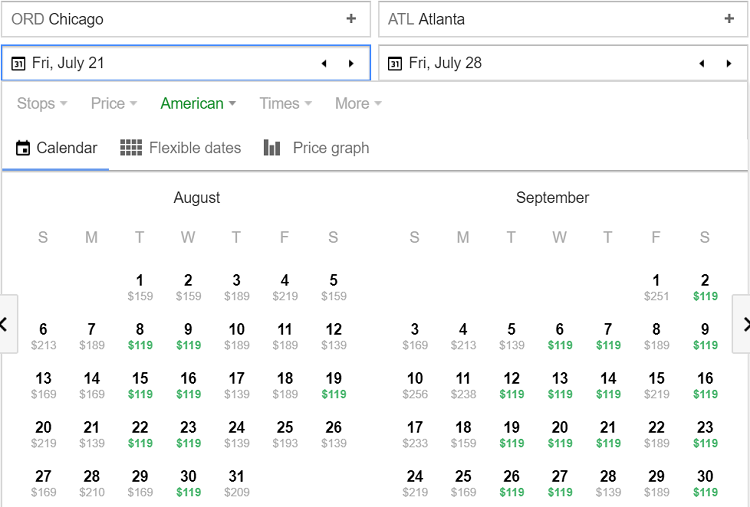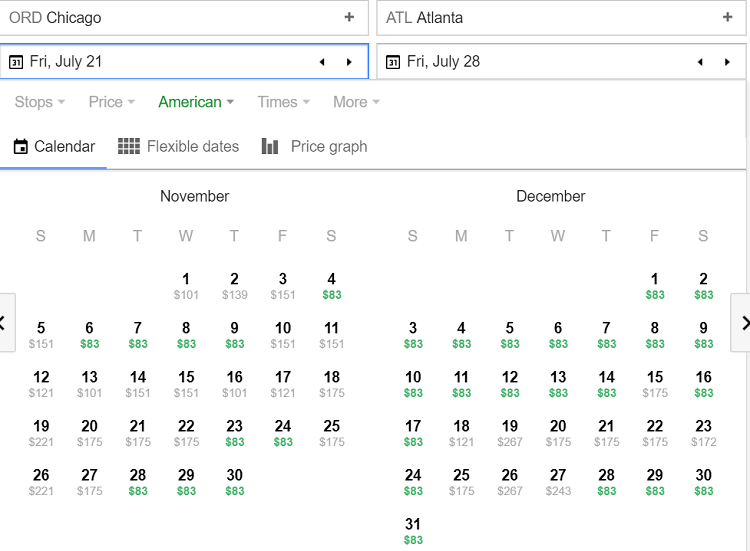 2 night trips available on American on
August 19, 24, 26, 27
Chicago – Atlanta
8th-15th Nov
23rd-30th Nov
24th Nov – 1st Dec
5th-12th Dec
18th-27th Dec
18th-28th Dec
24th-31st Dec
25th Dec – 4th Jan
28th Dec – 4th Jan
29th Dec – 5th Jan
5th-12th Jan
10th-17th Jan
12th-19th Jan
14th-21st Jan
19th-26th Jan
27th Jan – 3rd Feb
3rd-10th Feb
7th-14th Feb
Atlanta – Chicago
4th-11th Nov
11th-18th Nov
30th Nov – 7th Dec
5th-12th Dec
11th-18th Dec
18th-28th Dec
19th-28th Dec
19th-29th Dec
20th-28th Dec
20th-29th Dec
20th-30th Dec
21st-28th Dec
21st-29th Dec
21st-30th Dec
21st-31st Dec
23rd-30th Dec
23rd-31st Dec
24th-31st Dec
29th Dec – 5th Jan
7th-14th Jan
15th-22nd Jan
19th-26th Jan
21st-28th Jan
24th-31st Jan
27th Jan – 3rd Feb
1st-8th Feb
2nd-9th Feb
4th-11th Feb
Two Major Attractions Not to Miss
2. Just a short stroll across Centennial Olympic Park, the College Football Hall of Fame pays homage to a lighter subject: the unofficial religion of the South. You won't find plaques or busts in the Hall of Fame gallery; instead, you'll search 10 flat-screen digital displays for statistics on your favorite players. Even your ticket is interactive: When you arrive, you'll designate your favorite team, and exhibits throughout the building will offer information on the people and games you care about most.