Los  Angeles is calling you and now we have the cheap flights from Chicago for you to get there!  We have found some great deals on some  great cheap flights out of Chicago to the Los Angeles area in Sep-Dec for only $98 RT on American and others – see links below.    It looks like 3 day trips has the most availability for cheap sub-$100 RT flights.
HERE ARE THE DATES FOR THREE DAY TRIPS – IT SHOWS OVER $100 BUT USE THIS LINK TO SAVE UP TO $10 OR MORE PER FLIGHTS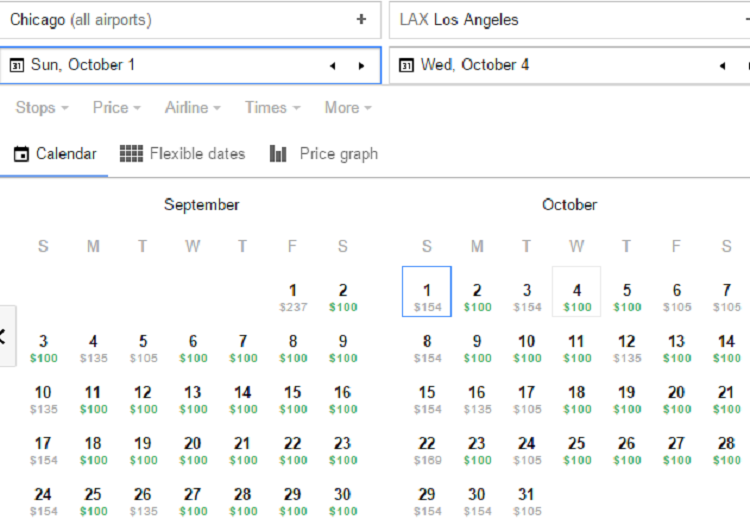 The sprawling city of Los Angeles, in Southern California, has long been known internationally in the film and entertainment industry, particularly for Hollywood, a place that has drawn aspiring actors and actresses from across the country for almost a century. Today, LA is a culturally diverse city, with a growing culinary scene, incredible shopping, outstanding museums, and a reputation for being the creative center of America.   Sun seekers coming to enjoy the warm climate and beaches will find all kinds of things to do and interesting neighborhoods to explore. Recent upgrades to the public transportation network and the addition of a bike share program in downtown LA have made getting around and sightseeing easier than ever. For families, nearby Disneyland and Universal Studios are key destinations that often warrant repeat visits. Regardless of your interests, Los Angeles makes a perfect getaway.
HERE ARE OTHER DEPARTURE DATES TO GET THE $98 RT FLIGHTS ON LONGER ITINERARIES
Sep 7, 13, 20, 23, 26, 27
Oct 4, 25
Chicago – Los Angeles
Sep 7th-16th
Sep 13th-23rd
Sep 20th-25th
Sep 20th-26th – Chicago to LAX –  Just $98 RT on American
Sep 20th-30th
Sep 23rd-30th
Sep 23rd Sep – 2nd Oct
Sep 23rd Sep – 3rd Oct
Sep 26th Sep – 2nd Oct
Sep 26th Sep – 3rd Oct
Sep 27th Sep – 2nd Oct
Sep 27th Sep – 3rd Oct
Sep 27th Sep – 7th Oct
Oct 1st-4th
Oct 4th-10th
Oct 4th-11th
Oct 4th-13th
Oct 4th-14th
Oct 25th-30th
Oct 25th-31st
Oct 25th – 1st Nov
Oct 25th – 3rd Nov