Who is ready to climb some Swiss mountains this summer.  You can if you grab any of these really great cheap flights to Zurich Switzerland from Denver for just $475 RT, good for selected flights from Denver International Airport (DEN) on select dates from June to August on the outbound departures.   Must purchase at least 7 days in advance of departure.  We found departures for 7 day itineraries on the following dates:
July 4, 12, 26
Aug 1, 2, 3, 9, 14
8 day itineraries have a few more dates. Departure dates  include:
June 12,  26
July 3, 11, 25, 31
Aug 1, 2, 8, 13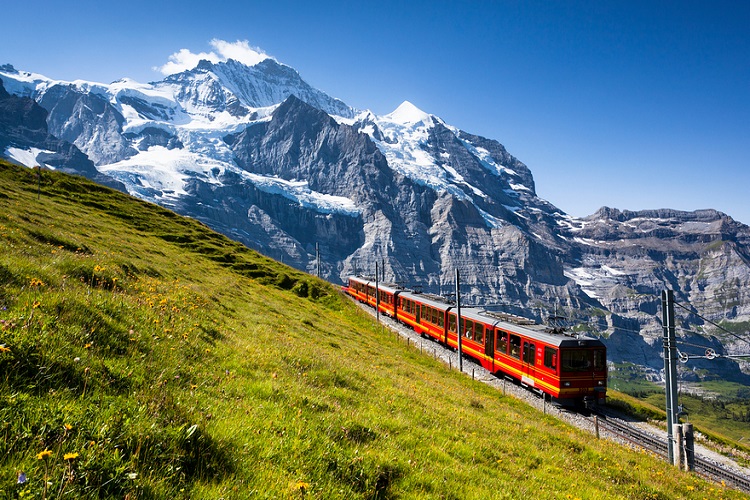 On arrival in Zurich you should get a 72 hours Zurich Card from the Service Center at Zurich Airport and make your way to the city centre by train in 15 minutes. The Zurich Card is a good way to explore the city as it offers you free rides on trams, buses, trains and boats as well as the cableways in Zurich. Besides it offers free admission to 39 museums and discounts as well as reductions in shops, night clubs and various activities that one can do in the city. Some only stay 24 hours in Zurich and that was good enough for them to get a quick glimpse of one of the Top 5 cities to visit in 2014 as per Lonely Planet – Zurich. Zurich attracts revellers from across Switzerland and the globe, for its fondues and bustling night life as well as for being a strategic financial hub for the Financiers, Bankers and those who enjoy dealing in numbers with lots of zeroes that goes at the end of it. Zurich will also be host to European Athletics Championship in 2014 and the city that lies on either side of the Limmat River and Lake Zurich and surrounded by hills on either side is also known for its famous shopping mile – the 1.2 kilometre stretch that extends with the most attractive, elegant streets for shopping with spectacular window displays and exclusive shopping experiences for those who have no boundaries for their budgets.
Whether it is to see Europe's largest waterfall – the Rhine falls traversing a beautiful wine growing region or the Top of Switzerland – Jungfraujoch, a UNESCO world heritage site passing thru idyllic landscapes of Kleine Scheidegg and transiting from a cog wheel train to the highest train station in Europe or an adventure excursion to Mount Titlis – the highest mountain point in central Switzerland, Zurich is truly the gateway to the mountains in Switzerland. Even Mount Pilatus, Mount Rigi , Mount Stanserhorn, Mount Engelberg and even the cities of Lucerne and Interlaken as well as the countryside of Heidiland and Appenzellerland can be accessed as day trips from Zurich.