The airfare sales are on to Mexico and you can get some amazing great cheap flights out of Chicago to Puerto Vallarta, Mexico in April and May for only $211 RT with availability in all of April and some days in May.    Puerto Vallarta — also known as "Vallarta" or just "PV" — maintains a small-town atmosphere, while still boasting one of the most unique and sophisticated oceanfronts in Mexico. The dining options and the hotel choices reflect more of the same — you'll find both elegance and efficiency mingled together within the hotel and restaurant areas.     Most people associate this west coast town with its boundaries — the Banderas Bay that snakes along the coast or the palm tree-lined Sierra Madre Mountains that stand tall in the east — but Puerto Vallarta is more than its scenery. Take some time to discover its other perks for yourself by sampling the delicious food, discovering a hidden boutique in the Zona Romantica, sipping a signature cocktail at a bar along the Malecón or dancing to a salsa beat in a Havana-style nightclub.
CLICK HERE to get April May prices to Acapulco – which is $225 RT!
DEPARTURE DATES AVAILABLE IN APRIL AND MAY — Find your dates below then BOOK HERE to get the flights for CHEAPER at  $211 RT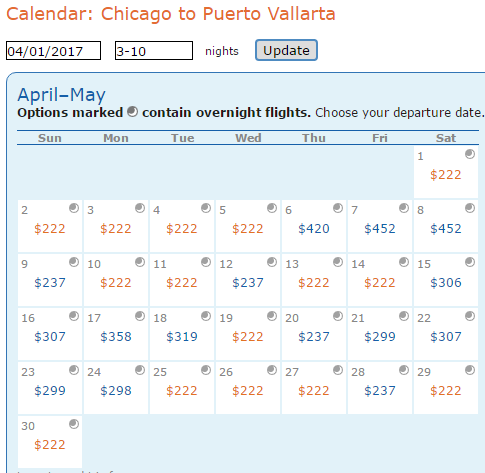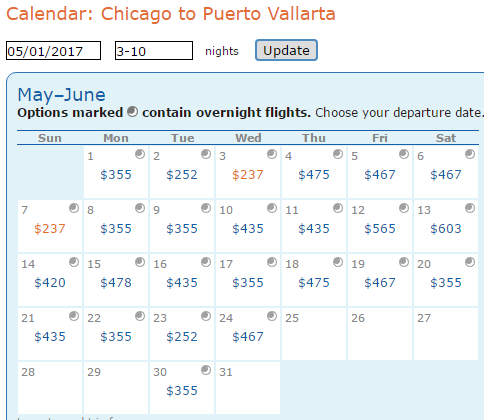 Before John Huston's 1964 film, The Night of the Iguana, Puerto Vallarta was a just sleepy fishing village on the Pacific Coast where the states of Jalisco and Nayarit meet. But Liz Taylor came to keep an eye on her lover Richard Burton while he was filming with the voluptuous Ava Gardner. The publicity buzz about Burton and Liz's torrid affair and the movie put Vallarta on the tourist map.   The Puerto Vallarta region is actually several destinations rolled into one, each with its own character and charm. The River Cuale divides the town into north and south. On the southern end is the quaint Romantic Zone where the Playa los Muertos attracts sun worshippers to its golden sand and countless beach bars. Further south the seaside villages of Boca de Tomatlan and Mismaloya where The Night of the Iguana was filmed beckon. North of the river, the Old Town meanders uphill to Gringo Gulch and along the bay where you'll find the Plaza de Armas (main square) and Los Arcos amphitheatre where daily free performances draw crowds.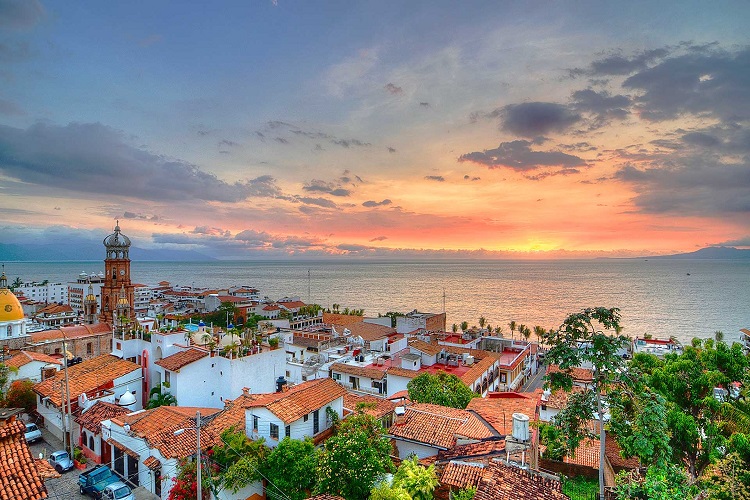 Puerto Vallarta's renowned Malecón (seaside promenade) runs from the Romantic Zone to the start of the Hotel Zone. Here you'll find a whimsical collection of bronze sculptures, including the town's iconic seahorse.  Further north are the Hotel Zone and Marina where many resorts and restaurants are located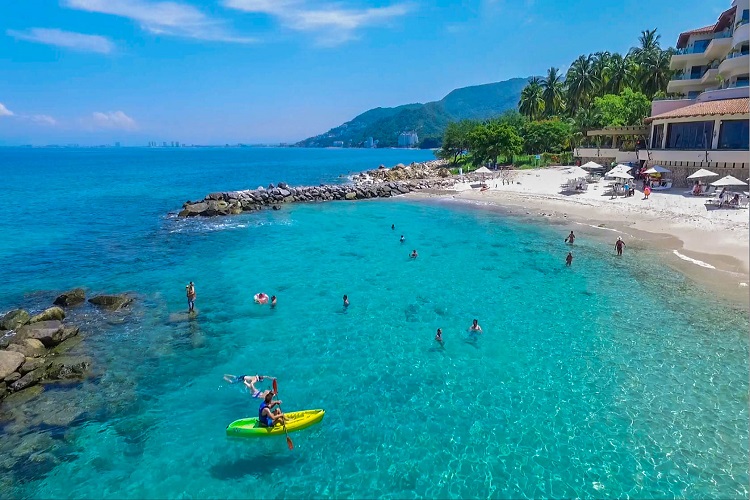 Traverse a modern bridge and you move from the State of Jalisco into Nayarit, home to the rapidly developing Riviera Nayarit with charming towns such as Bucerias and Sayulita and a host of resorts.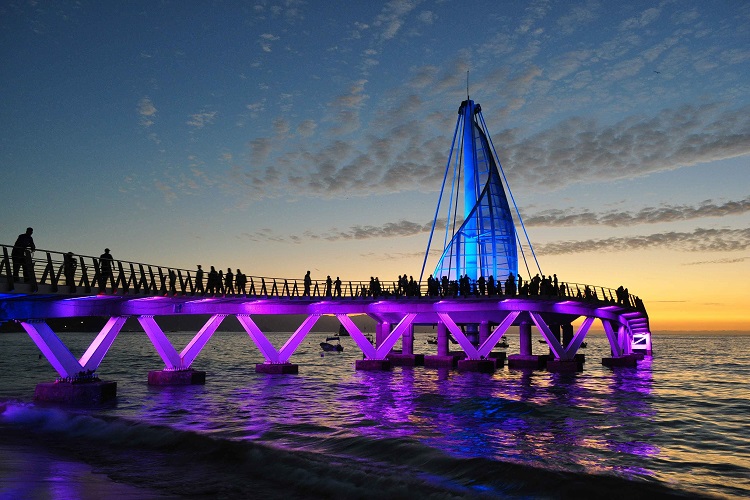 The locals seem genuinely happy to welcome an average of 3.7 million visitors to their town. You'll be encouraged to practice your Spanish but pretty much everyone can converse with you in English. Indeed, many American and Canadian snowbirds make it their home-away-from home winter after winter. Several become so smitten with Vallarta's ideal climate, they invest in real estate and businesses here. Puerto Vallarta enjoys a tropical climate. During the sunny dry season, from November to May, daytime temperatures hover at 27˚ to 30˚ C (80˚ to 85˚F) and there is virtually no rain. At night, the temperature drops to 16˚ to 18˚ C (55˚ to 65˚F), which is ideal for sleeping, but you may want to pack a shawl or light jacket. The hotter, humid rainy season lasts from June to October.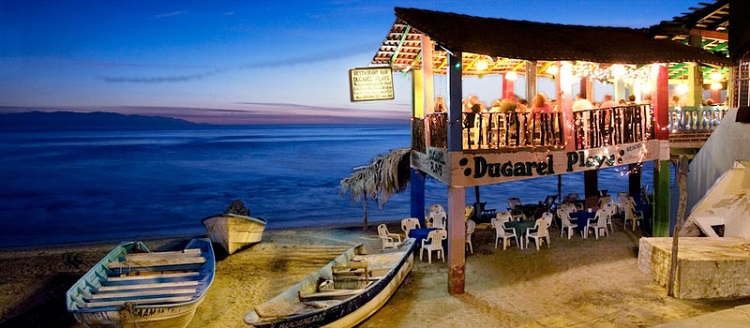 Sharing the same latitude as the Hawaiian Islands, Puerto Vallarta sits prettily in the middle of the Bay of Banderas, Mexico's largest bay, measuring 42 km (26 miles) from tip to tip. North of the city of Puerto Vallarta, the Ameca River forms a natural boundary between Jalisco and the state of Nayarit where newer resorts and developments form the Riviera Nayarit.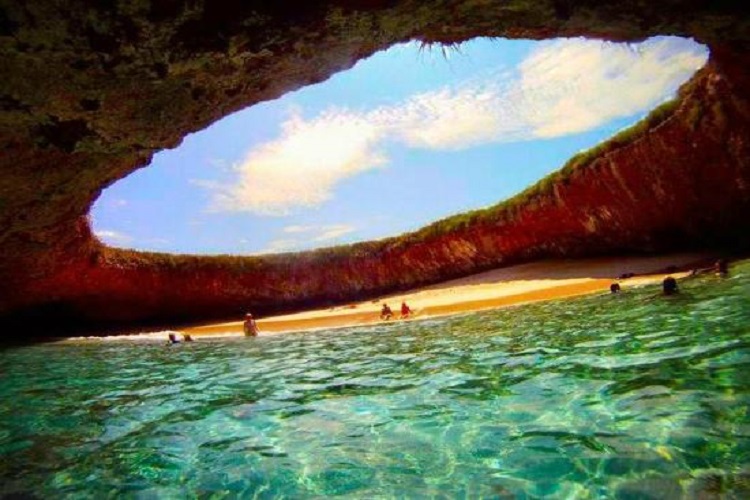 Once you get away from the beach, Puerto Vallarta's hilly cobblestone streets seem to merge into the green foothills of the Sierra Madre Mountains. We doubt they sell many Stair Masters here; you'll get plenty of exercise just navigating up and around town. The Cuale River, which divides Puerto Vallarta in half, flows down from the mountains and empties into the Pacific.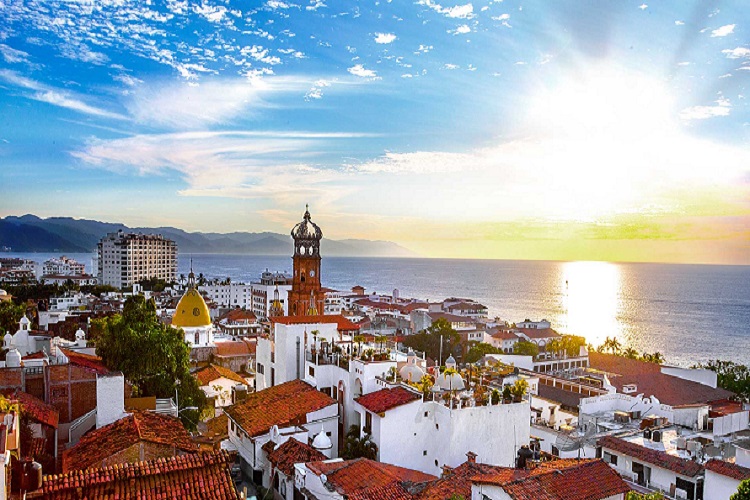 Today, Puerto Vallarta reigns as one of Mexico's most popular winter destinations because of its great diversity and almost perfect climate. Along with golden beaches, mountains and jungles you'll discover modern amenities and creature comforts. In short, Puerto Vallarta is a very simpatico and affordable paradise that will appeal to just about everyone.