Ready to head to the Big Apple, New York City, for some fun? right now, we have found one way tickets that let you pick and choose your dates for less than a round trip, meaning you can get there and back for as little at $88 RT.  Even if you're not mesmerized by New York City's soaring skyscrapers and monuments, you'll be blown away by its flourishing arts, food, fashion and nightlife scenes. You can spend your morning browsing Fifth Avenue's designer racks and your afternoon catching stunning city views from the Top of the Rock Observation Deck. Or, if you're an art lover, you can admire the striking works on display at the Met and the Guggenheim before feasting on ethnic fare in Chinatown or Little Italy. JUST $88 RT!!
SO check out a date below click here at BOOK YOUR OUTBOUND FLIGHT HERE (OTA's will cost less than this chart), Example – OUTBOUND May 3 – $39 RT on United)   
SO check out a date below click here at BOOK YOUR RETURN FLIGHT HERE (OTA's will cost less than this chart)chart, Example – RETURN May 10 – $39 RT on United)   
HERE IS THE CALENDAR OF OUTBOUND ONE WAYS FROM CHICAGO TO NEW YORK CITY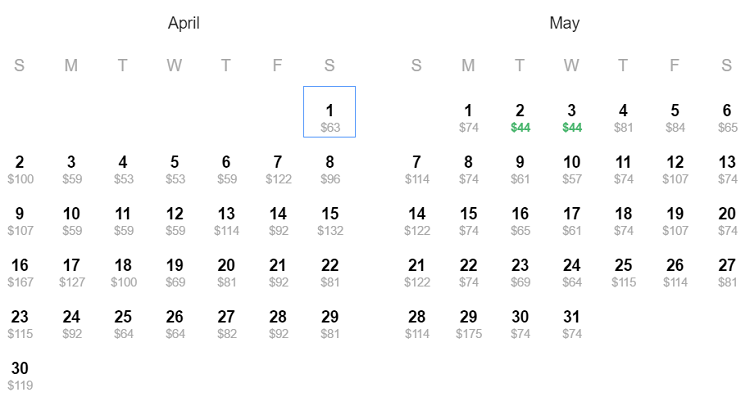 HERE IS THE CALENDAR OF RETURN  ONE WAYS FROM NEW YORK CITY TO CHICAGO
=================================================
JUST FOUND THESE ROUNDTRIPS IN JUNE
July 14-18 – Just $ 146 RT on American
July 28-Aug 1 – Just $147 RT on United
If you still have some energy (and cash) left over, don't miss the chance to snag tickets to an award-winning Broadway show or hop over to one of the low key rooftop bars and jazz clubs illuminating the Meatpacking District after dark.
OUR FAVORITE FREE THING TO DO IN NEW YORK?    CENTRAL PARK  
Central Park in New York City swallows central Manhattan, and many of the city's most notable attractions are situated next to it or within its limits (the Guggenheim, the Metropolitan Museum of Art and the American Museum of Natural History, to name a few). But travelers insist that you shouldn't just pass through Central Park on your way to another place. This 843-acre Eden is a favorite of New Yorkers and tourists; you can come here to exercise, dine, go to the zoo and more.      Almost everyone has a positive impression of the park, but no one has quite the same experience, or recommends that you do quite the same thing. There's an almost impossible amount of sights to see here (including 20 playgrounds, 48 fountains, monuments or sculptures and 36 bridges), but here's a shortlist:
Alice in Wonderland: This 11-foot tall statue sits upon a magic mushroom off 75th Street in the lower east side of the park. She's surrounded by the Mad Hatter, the Cheshire cat and plenty of fascinated little kids.
Bethesda Fountain: This romantic fountain's name refers to a pool in Jerusalem with healing powers. While you're there, be sure to snap a few photos of the Angel of the Waters sculpture that tops this mid-park sight.
Jacqueline Kennedy Onassis Reservoir: New Yorkers love to jog by this beautiful 106-acre body of water located mid-park. It's especially scenic in autumn, when the surrounding trees are ablaze with seasonal colors.
Loeb Boathouse: During the warm weather months you can rent a boat, bike or gondola from this Victorian-style boathouse and restaurant, located around East Park Drive next to the Bethesda Fountain.
Strawberry Fields: Named after John Lennon's song, this lower west park area (at West Park Drive and West 72nd Street) sits across the street from where the singer was assassinated in 1980. Visitors like to come here to eat lunch, admire the landscaping, or pay tribute to the Beatles.
Wollman Memorial Rink: This lower-east side spot is particularly popular with young families. In winter it's a popular ice skating rink; come summer, it's where you'll find the Victorian Gardens Amusement Park.
Central Park welcomes visitors daily from 6 a.m. to 1 a.m., but as with any out-of-doors site in a major city you're better off visiting in the day or early evening. Check out the park's official website for maps, information on all the activities available and special events.